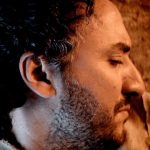 A reading from the book of the Prophet Isaiah
(Chapter 7:10-14)

Ahaz was the ruler of the kingdom of Judah at a time when Judah and other small nations were allied against the Assyrian Empire which was more powerful and certainly brutal. But Ahaz refused to be true to the coalition, so some of the nations that should have been his partners turned against him. While Judah was under attack from two directions, "The Lord spoke to Ahaz, saying: Ask for a sign from the Lord your God…. But Ahaz answered "I will not ask! I will not tempt the Lord." This was a phony excuse designed to mask Ahaz's lack of faith. Isaiah told him, "Is it not enough for you to weary people, must you also weary my God? Therefore the Lord himself will give you this sign: the virgin will conceive and bear a son, and shall name him Emmanuel"—a promise that Judah, the nation of David, would endure—in spite of its enemies and in spite of Ahaz.

Isaiah never tells us who the virgin is nor who the child is, except to say that his name will be Emmanuel which means "God with us." The prophesy was fulfilled, not in Ahaz's time but more than six centuries later with the birth of Jesus, the Messiah.

Responsorial Psalm
(Psalm 24:1-2, 3-4, 5-6)

"Let the Lord enter; he is the king of glory." Today, and every day, let us ask God to enter ever more deeply in our minds and hearts.

A reading from Saint Paul's Letter to the Romans
(Chapter 1:1-7)

The Rome of Paul's time was large for its time though not as large as it would become. That's why it was necessary for him to introduce himself properly as an important apostle. That is why he referred to himself as "Paul, a slave of Christ Jesus, called to be an apostle and set apart for the gospel of God." It is "the gospel about his Son, descended from David according to the flesh, but established as Son of God in power according to the Spirit of holiness through resurrection from the dead, Jesus Christ our Lord." These are Paul's credentials, and he wants to make sure everyone knows who he really is. This was especially important, because Christians were being arrested and martyred every day. If they were risking their lives, they needed to know that Paul and his message about God, Jesus was the real deal.

We do not risk our lives or suffer for the faith as the martyrs in Rome did, but we need to remember that our forebears in faith suffered and many do today.

A reading from the holy Gospel according to Matthew
(Chapter 1:18-24)

This gospel passage focuses on Joseph, a troubled man with a critical decision to make. Mary had not yet lived with Joseph, but she was pregnant. How? By whom? What should he do?

Matthew is the only evangelist who tells this story: "This is how the birth of Jesus Christ came about. When his mother Mary was betrothed to Joseph, but before they lived together, she was found with child through the Holy Spirit. Joseph her husband, since he was a righteous man, yet unwilling to expose her to shame, decided to divorce her quietly." Then Joseph had a dream in which the angel of the Lord said, "Joseph, son of David, do not be afraid to take Mary your wife into your home. For it is through the Holy Spirit that this child has been conceived in her. She will bear a son and you are to name him Jesus, because he will save his people from their sins…. "When Joseph awoke, he did as the angel of the Lord had commanded him and took his wife into his home."

Each of us has difficult decisions to make throughout our lives, usually without the help of angels in our dreams. Praying and asking for counsel from family or friends can help, and then asking the Holy Spirit to guide us can lead us to the best decisions in troubling times.

Image courtesy of FreeBibleImages.org.

Excerpts from the English translation of the Lectionary for Mass © 1969, 1981, 1997, International Commission on English in the Liturgy Corporation (ICEL). All rights reserved.

Bill Ayres was a founder, with the late singer Harry Chapin, of WhyHunger. He has been a radio and TV broadcaster for 40 years and has two weekly Sunday-night shows on WPLJ, 95.5 FM in New York. He is a member of Our Lady Queen of Martyrs Church in Centerport, New York.