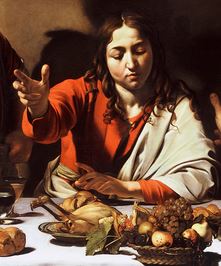 I have heard that when Abraham Lincoln gave his Gettysburg Address and ended with the part about "government of the people, by the people, and for the people," he stressed the word people in each phrase, not the prepositions of, by, and for. I think about that sometimes when, at Mass, we pray:
Through him, and with him, and in him, O God, almighty Father, in the unity of the Holy Spirit, all glory and honor is yours, for ever and ever. Amen.
I like the idea of stressing, in my speech and in my prayer, the word him, and not just the prepositions, through, with, and in. It may seem like a small thing, but it emphasizes just whose invitation for help and guidance we are accepting. We can depend on Jesus. We read in John 14:13-14:
I will do whatever you ask in my name, so that the Father may be glorified in the Son. If in my name you ask me for anything, I will do it.
And in John 15:16:
You did not choose me but I chose you. And I appointed you to go and bear fruit, fruit that will last, so that the Father will give you whatever you ask him in my name.