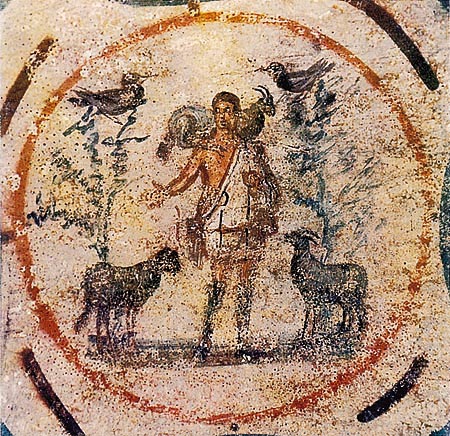 The presiding priest gave the final blessing at the Saturday vigil Mass, and then the deacon said, "Go forth in the peace of Jesus." I have heard similar dismissals many times, but for some reason, the invitation to peace resounded in my brain.
I was struck by just how dimensional that peace of Jesus really is and was prompted to suggest some of the facets of that peace as I see it.
P - Pastoral. Jesus, the Good Shepherd, offers guidance and direction to all of us. We can easily be lost sheep in this busy environment of ours. If we just keep our eyes on Jesus and humbly acknowledge that our loving Savior hears our prayers and knows what is best for us in his time, we can be peaceful. Joyfully, follow our Leader!
E- Evangelical. When we have Jesus' peace, we know we cannot keep it to ourselves. We can happily spread it through witness stories that we share with others. Jesus' peace is far-reaching and meant to be contagious. It helps us to be open and eager to be loving. Pass on the peace to others!
A - All-encompassing. The peace of Jesus affects all areas of our lives: our personal prayer life, our social life, our family life, our moral decisions, our work life. When we are truly open to experience Jesus, we can experience new vigor, strength, and perseverance. We see broader pictures in life. We are more open to forgiveness. Bring it on!
C - Calming. Many movies and television shows nowadays encourage and dramatize rushes of adrenalin in us. Everything has to be exciting and grossly stimulating! With the Lord's peace, a calmness comes with more patience and ease. Easy does it!
E - Everlasting. So many things come and go quickly. Everything and everyone seem to be in a big hurry. The peace of Jesus is time-tested and guaranteed never to expire so long as we stay close to him through prayer and a humble willingness to follow scripture teaching. Happily ever after!
We read in John's Gospel (20:19-23) that when Jesus' first appeared to his apostles after his resurrection, his first words to them were, "Peace be with you." He then gave them the power to forgive sins: "Receive the holy Spirit. Whose sins you forgive are forgiven them, and whose sins you retain are retained." (v. 22b-23)
Did you see? The peace came first. Let's try to put Jesus' peace first in our daily lives.