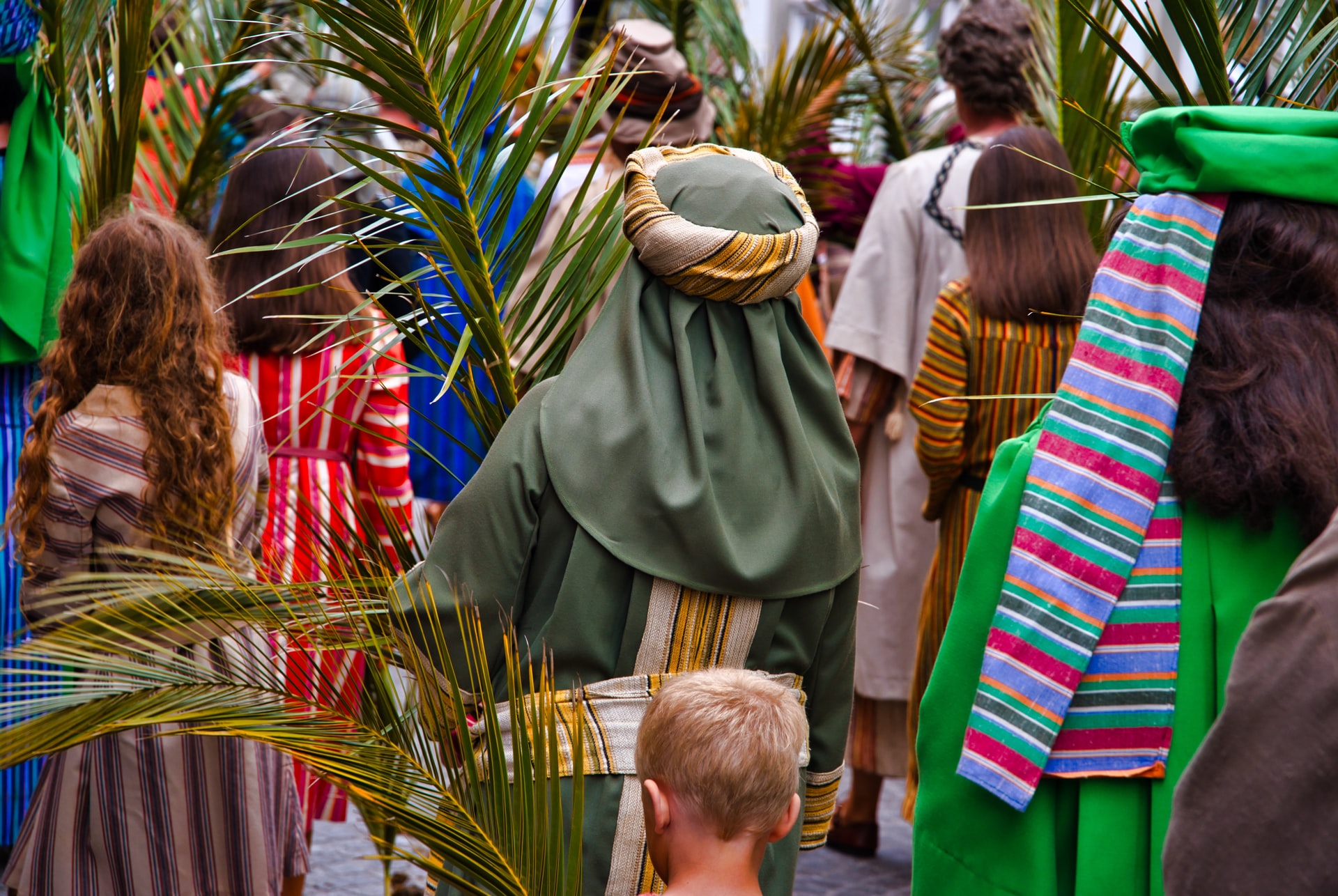 AT THE PROCESSION WITH PALMS
A reading from the Gospel According to Luke
Luke tells us of a joyous procession of the followers of Jesus into Jerusalem. You would think, just from this reading, that Jesus is about to be accepted as the true Messiah, not crucified as a dangerous criminal. How did the situation change so radically and lead to his death just a few days later? On one level, the politics of the time, Jesus is obviously a threat to the Roman rulers, and on the religious level he is also a threat to the Pharisees and Sadducees whose seat of power was the Temple in Jerusalem. Suppose the majority of the people turned against them and wanted Jesus as their leader. The Romans would never have let that happen, and they had the military power to prevent it. At the same time, the religious leaders' power existed only with the support of Rome, which would not be happy with some upstart prophet leading a rebellion against their authority or that of the Temple.
On another level, however, there was God's plan that was not about any specific earthly power but rather about salvation, through the death and resurrection of Jesus, for all people for all time.
READINGS AT MASS
A reading from the prophecy of Isaiah
(Chapter 50:4-7)
Isaiah tells of a Suffering Servant. "The Lord God has given me a well- trained tongue, that I may know how to speak to the weary a word that may arouse them. Morning after morning he opens my ear that I may hear; and I have not rebelled, have not turned back. . . . The Lord God is my help, therefore I am not disgraced." Throughout history, Jesus has been seen as the Suffering Servant Isaiah envisioned, the one who came not to be served but to serve, the one who came to die for us.
Psalm 22:8-9, 17-18, 19-20, 23-24
"My God my God, why have you abandoned me?" Jesus prayed these words on the cross, but this is not an utterance of disbelief or despair. We can assume that Jesus knew the whole psalm, including the strong expression of hope that follows these words.