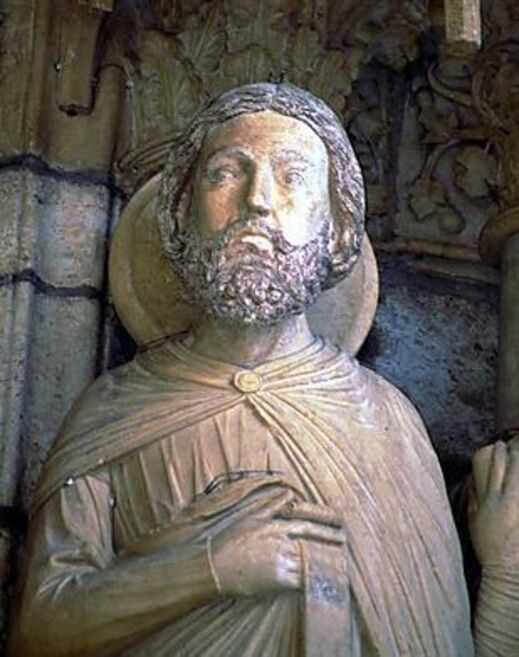 A reading from the Book of Sirach
(Chapter 15:15-20)
This passage is in our liturgy because the author, a scribe named Yeshua ben Sira, writing about 200 years before the birth of Jesus, alludes to a thought from the wisdom of Moses: "If you choose you can keep the commandments, they will save you; if you trust in God, you too shall live." Then later, he writes, "The eyes of God are on those who fear him." The word "fear," when related to God, has been often misunderstood. It means a sense of awe, not the cringing kind of fear that was often taught to children and adults to keep them subservient. True love of God "casts out fear."
Have you grown up in the wrong kind of fear of God, one that has not allowed you to be close to the true God of unconditional love? I hope not, or, if you were taught that as a child, I hope you have learned the truth as an adult, that our Father has the kind of "crazy love" that Jesus taught us in the powerful parable of the Prodigal Son.
Responsorial Psalm
(Psalm 119:1-2, 4-5, 17-18, 33-34)
"Blessed are those who follow the law of the Lord." Jesus said that the whole Law was this: "Love the Lord, your God, with your whole heart, your whole soul, and your whole mind, and love your neighbor as yourself." Easy, right?
A reading from St. Paul's first Letter to the Corinthians
(Chapter 2:6-10)
"But as it is written: What eye has not seen, and ear has not heard, and what has not entered the human heart, what God has prepared for those who love him, this God has revealed to us through the Spirit. For the Spirit scrutinizes everything, even the depths of God." Paul tells us that the mystery of God is revealed to us through the Spirit who lives in us.
Do you tend to think of God as "up there" or "out there," far away, not near to us? Yet here, Paul tells us that "God has revealed to us through the Spirit." This is the same Spirit that lives within us.
So, that is the clue to prayer. It is not so much reaching out to God—who knows where?—but listening to the Spirit who is within us, and being aware of what is really happening in our lives every day. In our encounters with other people, in our daily routines, we can experience the mystery of God—momentarily or for a while. It need not be earth-shattering but rather a gentle presence. Rejoice in the Spirit!
A reading from the holy Gospel according to Matthew
(Chapter 5:17-37)
This long Gospel passage has some strong language from Jesus: "I tell you, unless your righteousness surpasses that of the scribes and Pharisees, you will not enter the kingdom of heaven." The scribes and Pharisees interpreted the Law of Moses and how it was to be observed in people's lives. Jesus challenged their hypocrisy and the control they exerted over the people. Jesus also looked beyond the letter of the Law: "You have heard that it was said to your ancestors, 'You shall not kill; and whoever kills will be liable to judgement. But I say to you, whoever is angry with his brother will be liable to judgement…. Therefore, if you bring your gifts to the altar, and there recall that your brother has anything against you, leave your gift there at the altar, go first and be reconciled with your brother, and then come and offer your gift." Jesus follows with several other challenges, often using extreme language that was not meant to be taken literally, like throwing away an eye or cutting off a hand. The people at the time knew this to be what was called "Semitic exaggeration." Jesus was calling people then as he calls us now to go beyond written law and live by the Law of Love.
✝️
Photograph: Statue of Yeshua ben Sira at Chatres Cathdral, Chartres, France.
Excerpts from the English translation of the Lectionary for Mass © 1969, 1981, 1997, International Commission on English in the Liturgy Corporation (ICEL). All rights reserved.

Bill Ayres was a founder, with the late singer Harry Chapin, of WhyHunger. He has been a radio and TV broadcaster for 40 years and has two weekly Sunday-night shows on WPLJ, 95.5 FM in New York. He is a member of Our Lady Queen of Martyrs Church in Centerport, New York.