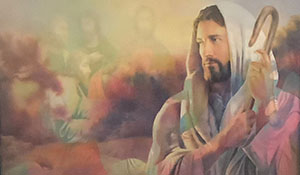 Have you ever heard of lenticular printing? Well, that is the process that is used to create the print I have hanging in my kitchen. Basically, if I look at the picture from one angle, I see Jesus at the Last Supper. If I move slightly and look again, I see Jesus on the cross. If I move again, I see Jesus as the Good Shepherd. It's all in one picture frame, all colorful and very detailed. It is one of the best purchases I've ever made!
I don't know about you, but I am inspired by visual aids. For example, I might be getting something out of the refrigerator, and as I close the door and look over on the wall where that print hangs, I see the Good Shepherd and am reminded of that beautiful Psalm 23, "the Lord is my shepherd." A few verses might come to mind and a little prayer may be inspired. Lovely, useful visual stimulation!
We know people's observations and conclusions do not always agree. Three individuals could understand the same concept in three different ways. We come from different backgrounds, disciplines, experiences, and belief systems; no wonder we hear of controversies and arguments.
Today is the optional memorial of St. Callistus I, a third-century pope who was greatly criticized, particularly by St. Hippolytus, on matters of discipline and doctrine. From the writings of Hippolytus, we gather that he considered Callistus too lenient toward sinners and differed with the pope on issues including the reception of Holy Communion, marriage, and even ordination requirements. They probably had read many of the same texts and documents but had come to different interpretations.
How we see things is a subject in sacred scripture too. In a few of the verses from the optional gospel reading for the memorial, Luke 22:24-26, we read about Jesus correcting the disciples' vision of greatness.
A dispute also arose among them as to which one of them
was to be regarded as the greatest.
But he said to them, "The kings of the Gentiles Lord it over them;
and those in authority over them are called benefactors.
But not so with you; rather the greatest among you must become
like the youngest, and the leader like one who serves."
Certainly today, with politicians at odds over a number of issues, we are bombarded with more than one opinion about many important matters affecting our country. I suggest that we bombard Jesus, our Good Shepherd, with prayers for patience, mutual understanding, and above all, for God's will to be fully accomplished.
The way I see it, St. Paul had wonderful instructions for the Philippians that we should follow:
Do not worry about anything,
but in everything by prayer and supplication
with thanksgiving let your requests be made known to God.
And the peaceof God, which surpasses all understanding,
will guard your hearts and your minds in Christ Jesus. (Philippians 4:6-7).
Sharon Krause is a RENEW volunteer whose writing has appeared in several resources for small-group faith sharing. She is a wife, mother, and grandmother residing in Manchester, CT. Over the years, she has served in many parish ministries.
Scripture passages are from the Revised Standard Version of the Bible: Catholic Edition, copyright © 1965, 1966 the Division of Christian Education of the National Council of the Churches of Christ in the United States of America. Used by permission. All rights reserved.
Resource: franciscanmedia.org