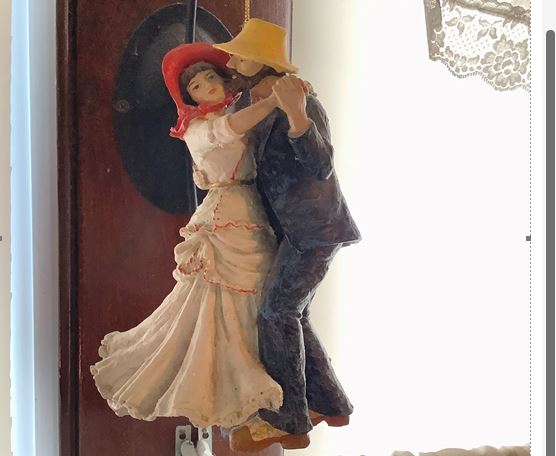 While some people may be thinking of Irish jigs at this time of year, a figurine that has been hanging in my house for years has offered me a bit of blog inspiration about another kind of dancing. I purchased the figurine at a Home Goods store. The card that came with it informed me that the ornament, named Possible Dreams, was inspired by the painting, Dance at Bougival, painted by Pierre-Auguste Renoir in 1883. As the couple dances above my head in my bedroom, I think about the dance of life and the various possibilities dancing affords.
I think you would agree that dancing offers a wonderfully different dimension to what we do every day—stepping. People usually dance to music, so there is a rhythm established and a pace set. The whole person is involved, and if you have a partner, coordination and interaction make for a smooth flow of movement, whether it is a fast or slow dance. If we are solo dancing, we still keep moving as we integrate various dance patterns. Dancing can be refreshing, exhilarating, and just plain freeing.
We are not all limber enough to dance all day long. Not every day do we feel happy enough to dance our troubles away. However, if we ask Jesus—even figuratively—to dance with us, we will find a partner that is faithful and loving, and who will keep us moving in the right direction as we enjoy a holy rhythm.