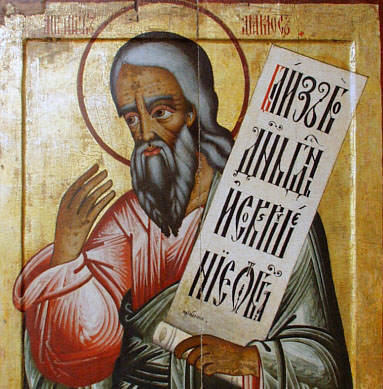 A reading from the prophecy of Amos
(Chapter 7:12-15)
Isaiah, Ezekiel, Jeremiah and Amos were prophets who were rejected by their own people. Amos was rejected by Amaziah the priest of the important temple in Bethel. "Off with you visionary!" Amaziah told the prophet, but Amos refused. "The Lord took me from following the flock," he said, "and said to me, Go, prophesy to my people Israel."
Amos was especially concerned with the way poor people were treated by those in power. Most people in his time and place, in the eighth century BC, were poor, so he was most unpopular with the elite, because he spoke the truth to power no matter the consequences. He especially challenged people who thought of themselves as strictly religious but were unjust to those whom they considered inferior.
It is important to see Jesus as following the long tradition of Hebrew prophets whose messages of healing and warning were rejected. Jesus was much more than a prophet, but he certainly was that as well.
Responsorial Psalm
(Psalm 85)
"Lord, let us see your kindness, and grant us your salvation." When have you recently experienced the kindness of God? Perhaps it was in prayer, through the kind words of a loved one or help from a stranger or someone you hardly knew. God's kindness comes to us in many ways through many people. Let us give thanks for God's kindness and all those who share it with us.