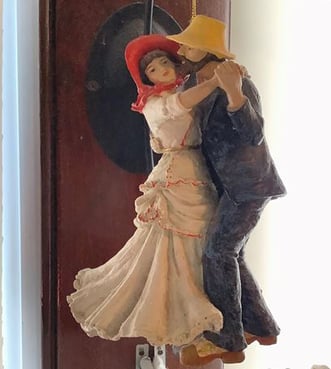 While some people may be thinking of Irish jigs at this time of year, a figurine that has been hanging in my house for years has offered me a bit of blog inspiration about another kind of dancing. I purchased the figurine at a Home Goods store. The card that came with it informed me that the ornament, named Possible Dreams, was inspired by the painting, Dance at Bougival, painted by Pierre-Auguste Renoir in 1883. As the couple dances above my head in my bedroom, I think about the dance of life and the various possibilities dancing affords.
I think you would agree that dancing offers a wonderfully different dimension to what we do every day—stepping. People usually dance to music, so there is a rhythm established and a pace set. The whole person is involved, and if you have a partner, coordination and interaction make for a smooth flow of movement, whether it is a fast or slow dance. If we are solo dancing, we still keep moving as we integrate various dance patterns. Dancing can be refreshing, exhilarating, and just plain freeing.
We are not all limber enough to dance all day long. Not every day do we feel happy enough to dance our troubles away. However, if we ask Jesus—even figuratively—to dance with us, we will find a partner that is faithful and loving, and who will keep us moving in the right direction as we enjoy a holy rhythm.
If we can picture Jesus by our side, showing us the way, we can feel a certain peace. We might proverbially step on other people's toes, or occasionally get off track and listen to the beat of a different drummer, but with Jesus as our leader, we can be forgiven and start again. We need to practice dance routines as we strive for perfection. The Holy Spirit can provide the inspirational music to keep us going.
When we get overburdened with worldly cares, we can become wallflowers and take ourselves off the dance floor. Our Lord wants us to be hopeful. He wants us to look around at all we have to be grateful for and to trust that our stepped-on toes will heal with his assistance. We just have to persist in prayer and believe in his wise choreography.
There are a number of verses in the Bible that exhort us to praise the Lord because he has turned our mourning into dancing. Check out Ecclesiastes 3:4, Psalm 30:11-12, Psalm 149:3-4, and maybe start your day with Psalm 150:
Praise the Lord!
Praise God in his sanctuary;
praise him in his mighty firmament!
Praise him for his mighty deeds;
praise him according to his surpassing greatness!
Praise him with trumpet sound;
praise him with lute and harp!
Praise him with tambourine and dance;
praise him with strings and pipe!
Praise him with clanging cymbals;
praise him with loud clashing cymbals!
Let everything that breathes praise the Lord!
Praise the Lord!
I don't have a trumpet, lute, harp, tambourine, fiddle, pipe, or cymbals, but I do have a voice, so let's step out together and joyfully praise the Lord of the Dance!
†††
Figurine © 2002 Possible Dreams Ltd.
Scripture passages are from the New Revised Standard Version Bible: Catholic Edition, copyright © 1989, 1993 the Division of Christian Education of the National Council of the Churches of Christ in the United States of America. Used by permission. All rights reserved.
Sharon Krause is a RENEW volunteer whose writing has appeared in several resources for small-group faith sharing. She is a wife, mother, and grandmother residing in Manchester, Connecticut. Over the years, she has served in many parish ministries.