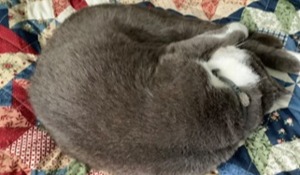 His name is Buddy. He is my cat.
We keep Buddy indoors at night because of the threat posed by a fisher cat in the neighborhood. Buddy is cooperative most of the time, but he has a propensity for exploration in the wee hours of the night. My brother-in-law used to say cats are nocturnal; I think Buddy occasionally has insomnia. Whatever the reason, once in a while I will be awakened by the sound of Buddy trying to push open the metal bathtub shower door—-although I know he is not interested in taking a shower. However, Buddy's true passion seems to be getting into the hall closet.
Let me tell you about that hall closet. It is about the size of a phone booth. My house is over 100 years old and has few and very small closets. I have lived in this house for more than 40 years and have done what I can to use closet space efficiently. That closet is packed with numerous hanging garments, extra throw pillows, a bag of seasonal gift wrap, two empty suitcases, hats, and craft supplies. There is hardly room for dust, never mind a 10-pound nosey cat! When I hear Buddy scratching at the door and can tell he has Houdinied himself from the hall into the closet, I get up, turn on the light, open the closet door all the way, and Buddy—who really could never find a comfortable flat space amid the contents—comes scrambling out to innocently find a chair or bed to catch some early-morning z's. By the time the nonsense is over, I might be fully awake.
There are other times, even without Buddy's assistance, when I experience overnight periods of wakefulness. I have noticed that my mind may head to what I call my "worry closet," although I don't know why.