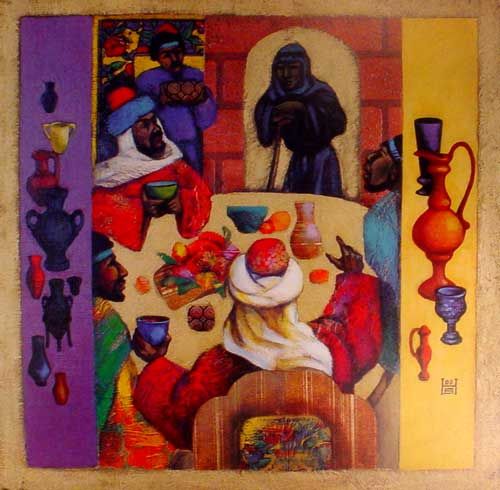 A reading from the Book of the Prophet Isaiah
(Chapter 26:6-10)
The mountain that Isaiah is describing is the mountain, Mount Zion in Jerusalem. "On this mountain the Lord of hosts will provide for all peoples a feast of rich foods and choice wines…. The Lord God will wipe away the tears from every face…. Behold our God, to whom we looked to save us! This is the Lord for whom we looked; let us rejoice and be glad that he has saved us." There is an important progression here, from "Our God, to whom we looked to save us" to "he has saved us." For thousands of years, the people of Israel have believed in a relationship with God that will bring salvation. That belief has a past, a present, and a future.
We, too, have a relationship with God, in Jesus, who, by his life and sacrifice, won for us our salvation. That relationship is based on his past time on earth, his presence now in our lives, in our Church, and in the sacraments—especially the Eucharist—and in our future life with him forever.
Responsorial Psalm
(Psalm 23:1-3a, 3b-4, 5, 6)
"I shall live in the house of the Lord all the days of my life." On one level, the "house of the Lord" is our Church. On another level, it is our own relationship with God. Has the COVID19 pandemic changed your relationship with God? Has it deepened it or damaged it? Do you pray for the victims every day and for those suffering in related ways? Can you do anything to help?
A reading from the Letter of Saint Paul to the Philippians
(Chapter 4:12-14, 19-20)
Paul had a very exciting life, filled with hunger, poverty, abandonment, imprisonments, and also endless travels, celebrations, achievements beyond expectation, a growing wisdom, and deep faith. When he was in need, the people of Philippi reached out to him, and he responded, "Brothers and sisters: I know how to live in humble circumstances; I also know how to live with abundance…. I can do all things in him who strengthens me. Still, it was kind of you to share in my distress…. My God will fully supply whatever you need, in accord with his glorious riches in Christ Jesus."
There is one line here that tells us who Paul was and how he lived: "I can do all things in him who strengthens me." Have you ever thought about that statement in terms of your own life? Have you ever done something that was extremely challenging and later wondered how you were able to do it? Try it. You might be surprised, and it might give you the strength to face something else that is seemingly beyond your abilities. You may be delighted at what you and Jesus can accomplish together.
A reading from the holy Gospel according to Matthew
(Chapter 22:1-14)
This is a very complex parable and one of the most difficult to understand. Here is the first part: "The kingdom of heaven may be likened to a king who gave a wedding feast for his son." He sent his servants "to summon the invited guests to the feast." They refused to come. Jesus is probably talking about a whole series of prophets whose messages were rejected. The king tried again, sending other servants. "Some ignored the invitation and went away…. The rest laid hold of his servants, mistreated them and killed them…. Then he said to his servants, 'The feast is ready, but those who were invited were not worthy to come…. The servants went out into the streets and gathered all they had found, good and bad alike, and the hall was filled with guests." Jesus is talking about the new Christian community, to which all are invited, both Jews and pagans.
The parable ends with a strange addition. One man who came was "not dressed in a wedding garment" and the king ordered his servants to "cast him into the darkness outside." What? The man is excluded because he did not have the right garment? No, the wedding garment is a symbol of something, but what? What could possibly exclude anyone from the kingdom of God? There are many possibilities, but none of them count if the person ultimately turns away from whatever sin caused the banishment. There is always another chance in God's eternal mercy.
Image: "The Wedding Feast" by Kazakhstan Artist Nelly Bube
Excerpts from the English translation of the Lectionary for Mass © 1969, 1981, 1997, International Commission on English in the Liturgy Corporation (ICEL). All rights reserved.
Bill Ayres was a founder, with the late singer Harry Chapin, of WhyHunger. Bill was a radio and TV broadcaster for 40 years. He is a member of Our Lady Queen of Martyrs Church in Centerport, New York.