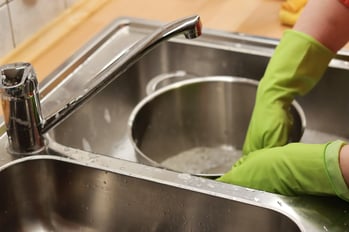 There are many simple, mundane little jobs we do every day. Why not make those jobs more than chores? I say we should add a little prayerfulness and stir well. Here are some examples, but we all can add or subtract ideas.
LAUNDRY. As I sort these clothes, O Lord, help me to learn to discern better what things in my life need to be sorted through carefully and, maybe, made better. I am grateful for those favorite clothing items that I enjoy wearing, but as I spray and treat small stains on my clothing, may I resolve to work to remove any habits that sully my relationship with you, my Lord. When I fold and put the clean clothes away, may the Holy Spirit help me to order my life and feel a sense of peace.
DISHES. Lord, I am thankful for the food that has been on these dishes and in these cups. You have been so generous, Lord, and I don't always remember to say grace before or after meals.
I think of the cup of wine at the Last Supper that you passed to your apostles after you changed the wine into your blood. You are such a generous Lord, sharing and giving your Body and Blood to us as divine nourishment. May I hold you close and let your love spill out to others.
COOKING. Lord, I remember your feeding so many followers with just five loaves of bread and a couple of fish. I remember the account of your having breakfast waiting for your apostles when they had finished fishing. Preparing meals is not just about food. Help me to remember that love, care, and camaraderie can be there as well. Bon appetit!
SWEEPING. Not only am I cleaning and clearing the way for my family and friends, but I am clearing the way for you to work in my life today, Lord. With your help, I will avoid those pesky little temptations that get in my way, and I will use my precious time to spread happiness and love—even in simple, little ways. I will endeavor not to sweep difficult decisions under the rug, but rather to ask the Holy Spirit for inspiration and wisdom.
MAKING THE BED. Good day, Lord! Thank you for comfortable sleep which gives me time to rest and reset. I remember that your infant bed was a manger, and I assume that as you walked various places in your public ministry, you did not have a soft, well-made bed on which to sleep. Help me never to take my comfort for granted. Enlighten me that I may use my well-rested self to bring comfort and consolation to your other children.
†††
Photograph by Marek Studzinski on Unsplash
Sharon Krause is a RENEW volunteer whose writing has appeared in several resources for small-group faith sharing. She is a wife, mother, and grandmother residing in Manchester, Connecticut. Over the years, she has served in many parish ministries.