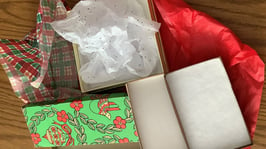 Recently, a friend of mine gleefully shared that her Christmas shopping was done already, and she has even wrapped all the gifts. Have you ever thought about why we wrap all those presents? Wouldn't it still be a surprise if we just said, "Here, I bought this for you because I care?" There is something to be said for the experience of wrapping, I guess; we humans seem to enjoy the anticipation, and the fancier the better. Besides, retailers make more money by selling us the fancy wrapping paper.
One year, I decided to decorate the outside of my wrapped packages with designs made with ribbon—that is, spelling out the recipient's name with ribbon, making the bows the flower-blossom tops of ribbon stems on the package front. It was fun for me, but quite time-consuming, and all to be ripped apart in the speedy opening of the gifts.
I suggest to you today that we each have certain personal gifts we should unwrap during this Advent season. Let's talk about a few of them. We are blessed to have the gift of faith in God; that we all know and are very thankful. How about the gift of gab? Some of us are easy conversationalists. It might be a good idea to strike up a cheerful conversation with a person doing a repetitive, mundane job during this busy season, just to put a smile on his or her face. It could even be a two-word opener, like: "Nice tie!" or "Lovely blouse!" I saw a store clerk the other day and remarked, "Pretty eyelashes!" She was pleasantly surprised that I had noticed.
We could phone someone who is stuck at home during this pandemic and just share some kind thoughts or listen to that person' s news. We might unwrap our gift of a sense of humor and share a few corny jokes or humorous anecdotes.
It could be an Advent of mercy as we unwrap the gift of our willingness to forgive and cancel out a grudge we have held against another person. Our gifts of wisdom and compassion can come into play as we move forward to a rekindled friendship.
Our gift of selfless generosity could be unwrapped as we go the extra mile to donate to food pantries as so many people are sidelined by the world's health crisis. How about surprising a health-care worker or first responder with a prepared meal at their door?
We might be hesitant to unwrap these gifts of ours, because we lack confidence in their efficacy. We might be a little lazy or lackluster after all the bad news we hear about the health status of our world. We just have to remember that the Holy Spirit is ever ready to help us manifest our gifts for the love and good of our neighbors. In 1 Corinthians 12:4-7 we read:
Now there are varieties of gifts, but the same Spirit; and there are varieties of services, but the same Lord; and there are varieties of activities, but it is the same God who activates all of them in everyone. To each is given the manifestation of the Spirit for the common good.
So I suggest that we save some shopping and wrapping energy for unwrapping our unique made-in-God's-image gifts to enliven our Advent with a positivity that is especially needed this year. Come, Holy Spirit!
The scripture passages are from the Revised Standard Version of the Bible: Catholic Edition, copyright © 1965, 1966 the Division of Christian Education of the National Council of the Churches of Christ in the United States of America. Used by permission. All rights reserved.
Sharon Krause is a RENEW volunteer whose writing has appeared in several resources for small-group faith sharing. She is a wife, mother, and grandmother residing in Manchester, CT. Over the years, she has served in many parish ministries.