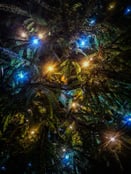 According to reports in the media, people have begun decorating for the approaching holidays already. One woman who was interviewed said that it makes her kids feel better to see all the bright lights inside and outside her house. Some families have put up their Christmas trees even before Thanksgiving. A business advertised on television that it employs workers who will decorate your whole front yard with tons of lights and electronic trimmings. Granted, it has been a dark year of pandemic and controversy, so we do need to lighten up.
Whether we are planning a big family meal on Thanksgiving or a small gathering, most likely the turkey will be trimmed with savory basting and spices. We may even dress to decorate ourselves a little fancier during holiday celebrations or at least wear a special gaudy Christmas sweater in December.
As we enhance the walls of our homes and our shrubbery, our luscious turkeys and desserts, and our own physical bodies, we could lose touch with the fact that we have to have positive foundations under the trimmings. If our fuses blow, our bushes collapse, our fowl is really foul-tasting, or our appearance is disheveled, our original intentions may not realize the desired results.
We should try to remember, for example, that while lights brighten up the early darkness outside and the pine trees in our living rooms, the true Light in our world all year long is Jesus, who shows us the way out of the darkness of sin and evil. In the incident described in John 8:12, the Pharisees were with Jesus:
Again Jesus spoke to them, saying, "I am the light of the world.
Whoever follows me will never walk in darkness
but will have the light of life."
We decorate our dining tables with pumpkin centerpieces and delicious foods, not because we want to gain 10 pounds or slave over the stove, but because we want to celebrate family and friends in joyful thanksgiving. he underlying meaning has nothing to do with spices or squashes.
Perhaps we put on happier faces and more sparkly clothing, but our true essence has little to do with outward appearance. We read in 1 Samuel 16:7b a reminder of what is important to the Lord:
"for the Lord does not see as mortals see;
they look on the outward appearance,
but the Lord looks on the heart."
Our lives have been bombarded with anxiety, concern for our own health and the health of those we love, and perhaps home-schooling our children or working from home. Our face masks can hide our real feelings while they protect us from the virus.
We have to try to make the best of the trying situations. The Lord is with us to help us to be happily hopeful and honestly optimistic.
Saying an extra rosary can be an enhancement in our prayer life. We might light a candle at the dinner table to remind us to invite the Lord into our sharing and conversation. A reusable family prayer around the Christmas tree—-whenever we decorate it—-can emphasize the real meaning of the season:
Lord, help us to decorate this season of love with kind words to others,
little unexpected acts of kindness,
extra words of thanks to you and to family members and friends
that are generous in their service to us.
Teach us to be lights in the darkness,
to trim our life tree with extra prayers
for blessing for (family members can add personal intentions aloud here).
We ask all these things in the name of Jesus, the Light of the World. Amen.
Photo credit: Daria Sinkevich
The scripture passages are from the Revised Standard Version of the Bible: Catholic Edition, copyright © 1965, 1966 the Division of Christian Education of the National Council of the Churches of Christ in the United States of America. Used by permission. All rights reserved.
Sharon Krause is a RENEW volunteer whose writing has appeared in several resources for small-group faith sharing. She is a wife, mother, and grandmother residing in Manchester, CT. Over the years, she has served in many parish ministries.