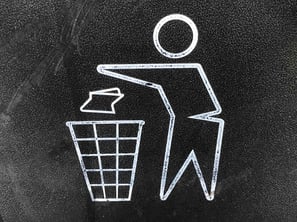 In my neighborhood, we put out at the curb two large bins every other Friday morning: one for refuse to be scrapped and one containing recyclables. During this season of Lent, in our efforts to come closer to the Lord and to appreciate the miracle of Easter even more than we did in the past, maybe we should consider what about our lives we can totally discard, and what we can—-in a manner of speaking—-recycle.
St Paul reminds us in his letter to the Ephesians (4:22-24),
You were taught to put away your former way of life, your old self, corrupt and deluded by its lusts, and to be renewed in the spirit of your minds, and to clothe yourselves with the new self, created according to the likeness of God in true righteousness and holiness.
We all have sinful ways that we know we have to try to discard. We go to confession and start over, but sometimes those sinful habits find their way back through our circumstances of life no matter how sincere our resolve. We try again. Our God is an understanding Father who forgives and, when we ask him, helps us as we try again and again. We follow what we read in the Acts of the Apostles (4:19-20):
Repent therefore, and turn to God so that your sins may be wiped out, so that times of refreshing may come from the presence of the Lord, and that he may send the Messiah appointed for you, that is, Jesus…
It is usually not very difficult to figure out what we should discard from our lives. We do have to remember to be forgiving of others, however, and not just discard relationships, or hold grudges, if we have been wronged. St. Luke tells us,
Be on your guard! If another disciple sins, you must rebuke the offender, and if there is repentance, you must forgive. And if the same person sins against you seven times a day, and turns back to you seven times and says, 'I repent,' you must forgive. (17:3-4)
What should we recycle? What can we call upon to use again? How about our energy and creativity? We may have to pray, rethink, refashion, and refocus our attention. The Holy Spirit is there, waiting to inspire us. The Book of Revelation (21:5a) reassures us,
And the one who was seated in the throne said, "See, I am making all things new."
So we start fresh each day of Lent, with recycling our attention to prayer, acts of kindness to others, and new acts of atonement. We are careful not to push ourselves too hard and become discouraged. We carry our life crosses daily with faith-filled confidence because Jesus died but then rose from the dead!
So if anyone is in Christ, there is a new creation: everything old has passed away; see, everything has become new! (2 Corinthians 5:17)
Above all, we are spurred on as we read again St. Paul's advice in his letter to the Philippians (4:8-9):
Finally, beloved, whatever is true, whatever is honorable, whatever is just, whatever is pure, whatever is pleasing, whatever is commendable, if there is any excellence and if there is anything worthy of praise, think about these things. Keep on doing the things that you have learned and received and heard and seen in me, and the God of peace will be with you.
†††
Photo by Gary Chan on Upsplash
The scripture passages are from the Revised Standard Version of the Bible: Catholic Edition, copyright © 1965, 1966 the Division of Christian Education of the National Council of the Churches of Christ in the United States of America. Used by permission. All rights reserved.
Sharon Krause is a RENEW volunteer whose writing has appeared in several resources for small-group faith sharing. She is a wife, mother, and grandmother residing in Manchester, Connecticut. Over the years, she has served in many parish ministries.