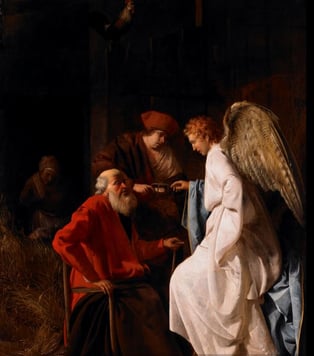 The Old Testament book of Tobit is interesting. As I see it, Tobit, progressed through about six life journeys before dying at a very old age. He certainly had a prayerful relationship with God; in the short book, we read his heartfelt prayers in chapters 3, 11, and 13.
Before Tobit was taken into captivity, with other Israelites, from Thisbe to Nineveh, he lived a life full of virtue and works of charity. He followed the law of Moses and was very generous with any money he could amass.
Once Tobit was taken to Nineveh, he courageously expedited the burials any of his people the king had ordered executed. Tobit faithfully performed numerous corporal works of mercy for his tribal brethren. However, one night, after burying one of his own people, his journey into blindness began after he fell asleep by a courtyard wall; his eyes were covered with sparrow droppings that produced white films that obscured his vision.
So traumatized was Tobit by his blindness that, in a journey into despair, he prayed for death. His prayer in Chapter 3 makes it clear that he thought he was being punished for his sins and those of his ancestors. Verses 6c reads:
"Command, O Lord, that I be released from this distress; release me to go to
the eternal home, and do not, O Lord, turn your face away from me.
For it is better for me to die than to see so much distress in my life
and to listen to insults."
As Tobit journeyed through his role as father of Tobias, he gave instructions that we might take to heart ourselves. He told his son to revere the Lord always, resist sin, give alms cheerfully, be attentive to the poor, avoid drunkenness, feed the hungry, clothe the naked, discipline your conduct, seek advice from every wise person, and avoid idleness.
Tobit's son travelled to far-off Media, accompanied by the archangel Raphael, to collect 10 talents of silver Tobit had deposited there; Tobias came home with Sarah as his wife. Tobit's journey to healing and joy is described in Chapter 11. Instructed by Raphael, Tobias used the gall of a fish he had caught to open Tobit's eyes so he could joyfully see his son and his new daughter-in-law. Despair changed to rejoicing as Tobit said (11:14b-15):
"Blessed be God, and blessed be his great name,
and blessed be all his holy angels.
May his holy name be blessed throughout all the ages.
Though he afflicted me, he has had mercy upon me.
Now I see my son Tobias!"
The final chapters show Tobit advancing to the age of 112. He was filled with gratitude and hope in this last leg of his life journey. His thanksgiving prayer encourages us to acknowledge the Lord, exalt him, and spread the rejoicing to others. Hallelujah! Chapter 14:2b tells us:
He was sixty-two years old when he lost his eyesight, and after regaining it he lived
In prosperity, giving alms and continually blessing God and acknowledging
God's majesty.
There is more to the book of Tobit, including the story of his daughter-in-law, Sarah, and her seven attempts at marriage before she wed Tobias; so if you have not read it in a while, you might consider it.
May we follow the example of Tobit and give whole-hearted thanks to our Lord for his blessings every day. And we might want to recheck those words of advice he gave Tobias and pass them on as well.
†††


Image: Simon Hendricksz van Amersfoort, Tobias and the Angel Curing Tobit of Blindness, 1630.
The scripture passages are from the Revised Standard Version of the Bible: Catholic Edition, copyright © 1965, 1966 the Division of Christian Education of the National Council of the Churches of Christ in the United States of America. Used by permission. All rights reserved.
Sharon Krause is a RENEW volunteer whose writing has appeared in several resources for small-group faith sharing. She is a wife, mother, and grandmother residing in Manchester, Connecticut. Over the years, she has served in many parish ministries.