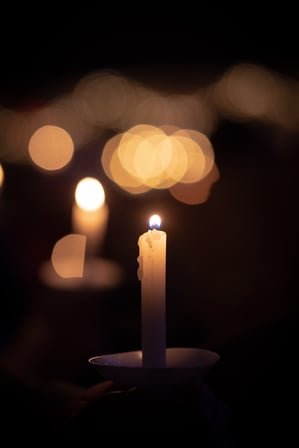 Here we are, coming fast to the end of the year. Two big holidays punctuate these last days: Thanksgiving and Christmas. People have already wished me happy holidays.
What are the current concerns we hear about on the news? For Thanksgiving, the prices of turkey and all the fixings will be going up because of shortages and pandemic repercussions. If the most important thing about the holiday is food and making it taste the way it should, then we had better get shopping and searching for sales and supplies. After all, isn't Thanksgiving mainly about those favorite recipes and eating a feast? Who are we thanking anyway: the workers at the farms and grocery stores, those who prepare the savory dishes, those who planted the vegetables? Do we go far enough and thank the Creator for all the blessings? Do we think more about our appetites and our pigging out than the true meaning of the holiday? Certainly, it is enjoyable to eat lots of good food and share time and stories with family and friends; but do we also take the time to truly be thankful to God for all we have? Is one little "Grace Before Meals" prayer the beginning and end of our effort of giving thanks? How do we allot our time?
Retailers are getting nervous about the supply shortages. They are urging consumers to shop very early. After all, isn't the Christmas holiday supposed to be when we all splurge and spoil our families and friends? Aren't all the decorations, lights, and gifts the objects of our hectic activities? Who cares whether we call the season "the holidays," or "Christmas?" Isn't the focus on those special presents and Santa Claus? Spend that money! Everyone should be merry and bright as we concentrate on material goods!
Of course, giving gifts to people we care about is enjoyable. Pretty light displays in our yards can be very pleasant to put together. Christmas songs are like old friends we love to hear from every year. Do familiarity and habit tempt us to fall short, so far as our time and effort are concerned, to celebrate the actual reason for the feast? Does the season of the Incarnation become a period during which we become more an "in-car nation" as we drive around to shop, do holiday errands, and go to parties?
I am not trying to be a "bah humbug" person. I just put forth the question: With so many colorful distractions and pressures from our modern world to concentrate on the stuff that makes us feel good, well-fed, and pampered, do we miss the true value and reasons for the holidays? There is great joy in mulling over what we have to be thankful for and then praying some sincere and frequent thank-you prayers. And if Jesus had not come to earth in the fullness of time, we know we would be lost and forsaken!
Our Church celebrates the season of Advent during which we prepare for the celebration of Jesus' birth. Let's not get ourselves too worn out to be alert and ready to proclaim to others the greatest Gift of Christmas. We make time for so many things in our lives—some necessary and some special treats—but during Advent, we really need to find time to calmly reassess our priorities to be sure we get ourselves ready for the birth of new love in our hearts and closeness to our Savior.
†††
Photo by Tim Umphries on Unsplash
Sharon Krause is a RENEW volunteer whose writing has appeared in several resources for small-group faith sharing. She is a wife, mother, and grandmother residing in Manchester, Connecticut. Over the years, she has served in many parish ministries.