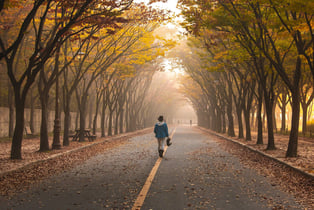 Over the past ten months, I have limited my going to stores, churches, and entertainment venues. Consequently, I have had a lot more free time around my house. When I need a change of environment, depending on the weather, I take a walk around my neighborhood. I have revisited my conclusion that I take so many things for granted and that I need to be mindful of all the things I can do, even though there is a pandemic virus threatening. So a walk around a few blocks helps me to clear my head and focus on positivity; and my doctor encourages me to exercise often for my physical health.
Have we ever considered other opportunities a stroll can provide? If I am walking alone, I have the chance to pray the rosary or some other personal prayers. I find prayers of gratitude pop into my head as I observe beautiful clouds or hear sweet birds' songs. I am reminded of how grateful I am to have the strength, balance, and flexibility to be able to walk; yet, I see happy people gliding along very successfully in wheelchairs and enjoying what outdoors has to offer them.
And I never know whom I might meet as I amble around the familiar streets. At times, God gives me chances to smile and greet others, and maybe even share brief conversations that could brighten others' days or help solve little problems.
This all leads me to think about Jesus and his public ministry. Only once in the Bible do I read of Jesus' riding a donkey (Mark 11:1-11). Jesus was a peripatetic preacher and healer, that is, he was a walker who constantly moved from place to place. Wouldn't you have loved to be in a crowd following Jesus around? It might have been exhausting! Wouldn't it also have been amazing to witness the wonderful healing miracles Jesus worked? Just thinking about the paralytics he healed so they could walk is awesome!
What if I were walking to Emmaus with a friend and Jesus joined us! (Luke 13:13-33) would I have invited Jesus to come and dine with us? I try to remember that I can find Jesus in my neighbor today; I have to remain open to what Jesus wants to teach me in my everyday encounters. He gives me chances to share his good news even in very small ways.
At the end of his earthly life, Jesus chose to walk his passion as he carried his cross. I am not so sure I would have wanted to witness that walk. And I cannot imagine the joy of Mary Magdalene when she saw Jesus standing near his empty tomb. (John 20:11-18)
One of my favorite songs years ago was "You'll Never Walk Alone." The message of the song concluded with the encouragement that with hope in your heart you will never walk alone. Our hope is in Jesus Christ, so we walk with him every day.
We read in Romans 15:13:
May the God of hope fill you with all joy and peace in believing, so that you may abound in hope by the power of the Holy Spirit.
Psalm 121:7-8 reassures us as we come and go:
The Lord will keep you from all evil; he will keep your life.
The Lord will keep your going out and your coming in from this time on and forevermore.
Happy walking, everybody!
The scripture passages are from the Revised Standard Version of the Bible: Catholic Edition, copyright © 1965, 1966 the Division of Christian Education of the National Council of the Churches of Christ in the United States of America. Used by permission. All rights reserved.
Sharon Krause is a RENEW volunteer whose writing has appeared in several resources for small-group faith sharing. She is a wife, mother, and grandmother residing in Manchester, Connecticut. Over the years, she has served in many parish ministries.