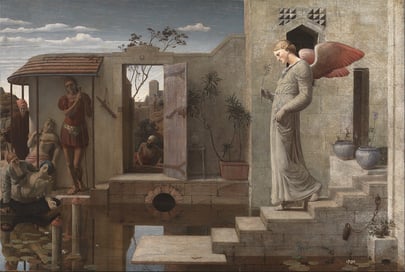 When I pulled into the parking lot at 5:56 a.m., there were very few cars there. That was good. I needed a routine blood test, and I had not made an appointment, so I wanted to get in line as soon as the door opened at 6. All at once, some cars started pulling into the lot, so I decided to get out of my car and get in line by the door. A fellow drove in as I started to walk to the door, but he was faster than I was. He got out of his car and walked over to the building in front of me. I was a bit annoyed, because I was really there ahead of him. Hmph! I did not say anything, but I was a little annoyed. I had to think again. The difference would probably mean only about a five-minutes wait.
When I previewed the gospel reading for tomorrow's liturgy, I saw a parallel. In John's Gospel (5:1-16), we learn that Jesus was at a pool at the Sheep Gate, known in Hebrew as Bethesda, where many ill and disabled people gathered. Jesus spoke with a crippled man who had been lying there for a long time. He had been sick for 38 years. The man was waiting to be put into the pool, hoping for some relief, but he said that he had no one to put him into the pool, and that when he tried to get there on his own, someone would always get in before him. Sound familiar?
Well, Jesus did not have to think twice. He told the man to pick up the mat on which he was lying and walk. This occurred on the Sabbath, and his fellow Jews told the man that he should not be carrying his mat. Jesus had healed on the Sabbath and had told the man to carry his mat. Were there two Sabbath violations, two more excuses to persecute this healer?
We hear about the letter of the law versus the spirit of the law. Certainly, we need to keep the Lord's Day holy. We should think twice about doing unnecessary work as we pay close attention to honoring, praising, and thanking God for all his blessings. Jesus saw the chance to lovingly help the crippled man and he took it. The man would no longer need to lie on his mat all day, so he should pick it up and get it out of others' way. Think again. Didn't Jesus show great love on the Sabbath? Isn't healing love necessary any day of the week? Weren't some of the critics just waiting for any chance to criticize and persecute Jesus?
We can be good at rationalizing and making excuses for why we follow or ignore this law or that law. If we consider the reasons behind the laws, especially God's laws of love, and if we are honest with ourselves as we analyze our motives, it is likely we will conclude that the loving way is the best way.
As we sat in the waiting room of the blood-letting lab, the line-cutter fellow and I were peaceful. As I thought about it again, I decided he did not even think he was trying to race me to the door. His mind could have been on many personal things. He even commented that he had been there a few days before and had given up after waiting so long. I figure that is why he had come so early in the morning as he tried again.
†††
Painting: Pool of Bethesda by Robert Bateman. Public domain.
Sharon Krause is a RENEW volunteer whose writing has appeared in several resources for small-group faith sharing. She is a wife, mother, and grandmother residing in Manchester, Connecticut. Over the years, she has served in many parish ministries.