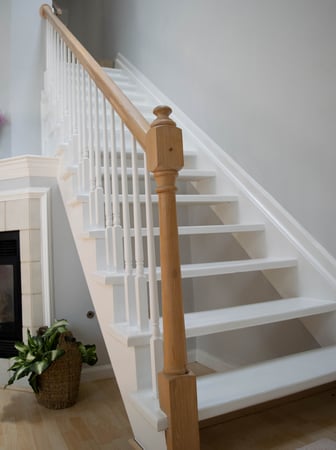 "….10, ouch! 11, ow! 12, oof! 13, whew!"
That's how I sound sometimes when I climb the stairs to our second floor. I live in a house that is over 100 years old, and my arthritic knees get very weary from my frequent travel up that stairway.
Superstition holds that 13 is an unlucky number, so maybe those 13 steps are just too unlucky for my joints.
In another context, 13 sins are listed in Mark 7:21 as Jesus cautions us,
From within people, from their hearts, come evil thoughts, unchastity, theft, murder, adultery, greed, malice, deceit, licentiousness, envy, blasphemy, arrogance, folly.
On the other hand, perhaps I can come up with 13 little prayers or praises about God which I can call upon, step by step. I might pick out different attributes of God: Lord, you are merciful; Lord, you are all-knowing; Lord, you are my light in my darkness; Lord, you are all-just; Lord, you seek relationship with me; Lord, you teach me; Lord, you make all things new; Lord, you are unchanging; Lord, you offer me strength; Lord, your presence is always available to me; Lord, you are so generous; you are forgiving; and Lord, you are understanding and compassionate.
I could also pray for a different family member or friend by name at each of the steps. How about Psalm 136—each of the 26 verses concludes with "for his mercy endures forever." I could pray one verse for each foot as it climbs the 13 stairs.
Before I make the climb, I might read Psalm 121, a song of ascents:
I
I lift up my eyes toward the mountains;
whence shall help come to me?
My help is from the Lord,
who made heaven and earth.
II
May he not suffer your foot to slip;
my he slumber not who guards you:
Indeed he neither slumbers nor sleeps,
the guardian of Israel.
III
The Lord is your guardian; the Lord is your shade;
he is beside you at your right hand.
The sun shall not harm you by days
nor the moon by night.
IV
The Lord will guard you from all evil;
he will guard your life.
The Lord will guard your coming and your going,
both now and forever.
In Genesis 28:12, we read of Jacob's dream of a stairway between earth and heaven with God's messengers ascending and descending it. I am not so agile as those messengers, so I may have to try out my ideas to make my trips up and down at least a little holier!
†††
Photo by Micah Carlson on Unsplash
The passage from the Gospel according to Matthew is from the New American Bible, revised edition © 2010, 1991, 1986, 1970 Confraternity of Christian Doctrine, Inc., Washington, DC All Rights Reserved.
Psalm 121 is from the Lectionary for Mass for Use in the Dioceses of the United States, second typical edition, Copyright © 2001, 1998, 1997, 1986, 1970 Confraternity of Christian Doctrine; Psalm refrain © 1968, 1981, 1997, International Committee on English in the Liturgy, Inc. All rights reserved..
Sharon Krause is a RENEW volunteer whose writing has appeared in several resources for small-group faith sharing. She is a wife, mother, and grandmother residing in Manchester, Connecticut. Over the years, she has served in many parish ministries.