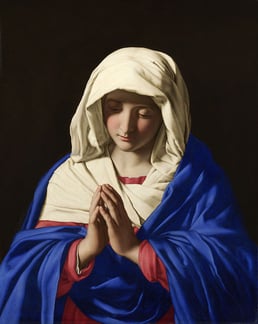 For many years, when I have a real prayer emergency, I pray "Memorare." It is my 9-1-1 prayer!
Remember, O most gracious Virgin Mary, that never was it known that anyone who fled to thy protection, implored thy help, or sought thine intercession was left unaided.
The Virgin, pure Mary, is truly gracious; she is full of grace, full of God's life, uncorrupted by original sin. She is always ready to help me and keep me safe. She is ready to hear my cries for her powerful assistance and to ask her son to consider my petitions according to the will of the Father.
Inspired by this confidence, I fly unto thee; O Virgin of virgins, my mother;
It is very consoling to know that Mary is there for me. I fly to her; with my prayer, I lift myself higher above my physical world so that I can talk with the holiest of virgins who is also my mother, because Jesus gave her to me and the Church as he hung dying on the cross. Being a mother, I know how strong and compelling a mother's love can be. There is a unique intimacy between a mother and each of her children.
To thee do I come, before thee I stand, sinful and sorrowful.
I am coming to Mary in all honesty. I am truly leveling with Mary. I am a sinner. I am weak. However, I am sorrowful. I know I give in to bad choices sometimes, but I promise to try to do better. I am not cowering in fearful guilt; I stand up and say that I regret not being the best person I can be, but I trust God to forgive me.
O Mother of the Word Incarnate, despise not my petitions, but in thy mercy hear and answer me. Amen.
With tremendous faith and trust, Mary became the Mother of the Word Incarnate, the Word made flesh. The Word of God, who has been and will be with us forever has Mary as his Mother. When someone points out that I am my daughter's mother or my grandchildren's grandmother, I am so grateful to God for those opportunities. Mary must be so grateful to God for how he blessed her in his gift of motherhood. I need to recognize that! I am sure she does not need reminding, but I can rejoice with her over and over again.
This brief conversation with Mary, from the 15th century. is such a beautiful prayer and easy to memorize. I highly recommend calling on our Virgin Mother in our special times of need!
†††
Image: Virgin Mary by Giovanni Battista Salvi da Sassoferrato (1609-1685)
Sharon Krause is a RENEW volunteer whose writing has appeared in several resources for small-group faith sharing. She is a wife, mother, and grandmother residing in Manchester, Connecticut. Over the years, she has served in many parish ministries.