The Lord is truly risen, alleluia.
To him be glory and power
for all the ages of eternity, alleluia, alleluia!
-Entrance Antiphon Easter Sunday, Mass During the Day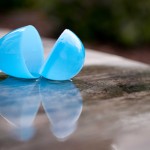 After college and before I became a Dominican Sister, I served three years on the Archdiocese of New York Parish Mission Team. For me, it was a powerful time of grace as we gave parish missions to packed churches each week through prayer, song, and story. Fr. Jim Conlan, the director of the team, was a powerful preacher and one of the most compassionate human beings that I have ever met. He taught us to preach God's healing love and mercy through story and personal witness. At every parish we visited, he retold a true story of a second-grade teacher and one of her remarkable students.

Doris Miller taught before the days of special education. She once had a boy named Jeremy in her class; he was both mentally and physically challenged. One day in early spring, Ms. Miller gave her students an assignment. She presented each student with a plastic egg and asked them to place in the egg some sign of new life and to bring it back to class the following week. When the day arrived each student excitedly placed an egg in a basket on the teacher's desk. After math class, she began to open them.

The first egg contained a little yellow flower. "Oh, yes," she exclaimed, "this is a beautiful sign of new life." Little Mary squealed, "That is mine." She opened the second egg, and it had a slightly opened bud. She exclaimed, "Yes, this is good; it shows the possibility of life." And Tommy called out, "That is mine, Ms. Miller." She opened the third egg, which had a rock in it. As she turned it over she saw it was covered with moss. She said, "Wow, this is interesting. At first I only saw a dead rock until I turned it over." And Billy exclaimed, "My dad helped me with that one." She then opened a fourth egg, and it was empty. She thought it must be Jeremy's and that he probably did not understand the assignment. Not wanting to embarrass him, she pushed the egg aside. However, Jeremy called out, "Wait, that one is mine, teacher." "But Jeremy," she whispered, "it is empty." He replied without hesitation, "I know Ms. Miller. It is the tomb of Jesus. It was empty too, you know." She was stunned. She hesitated for a moment, regrouped, and then she said to the class, "Jeremy has showed us the ultimate sign of life, the empty tomb of Jesus." Three months later, Jeremy died. The eighteen children and Ms. Miller place nineteen eggs around his head stone. All of them were empty. Jeremy was right. The empty tomb means new life.

Easter reminds us of the central truth of our faith that Jesus won the victory over suffering and even death. The Easter message is one of hope for us—nothing, not the darkest night, nor the most devastating news can rob us of life and hope. The God who lifted Jesus from the tomb is the same God who accompanies us in our darkest moments and will lift us into new life. God comes to us when we least expect him, and his messenger is sometimes the weakest and most vulnerable among us. The tomb is empty, Jesus is alive, and Jesus is with us now. Amen. Alleluia!

Sr. Terry Rickard is the Executive Director of RENEW International and a Dominican Sister from Blauvelt, NY.