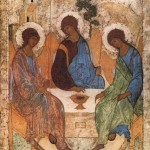 "The eleven disciples went to Galilee, to the mountain to which Jesus had ordered them. When they all saw him, they worshiped, but they doubted. Then Jesus approached and said to them, 'All power in heaven and on earth has been given to me. Go, therefore, and make disciples of all nations, baptizing them in the name of the Father, and of the Son, and of the Holy Spirit, teaching them to observe all that I have commanded you. And behold, I am with you always, until the end of the age'" (Matthew 28:16-20).
In event described in this Gospel reading, the disciples were invited to a special encounter with Christ, and, through them, the whole world was invited as well.
Imagine the fear and doubt the disciples must have experienced as they made their way toward the meeting place in Galilee. They must have hoped that the words the women spoke were true, that Jesus was no longer in the tomb and had risen from the dead, yet they probably tried not to get their hopes up too high. They may also have been afraid of what Jesus would say to them. They had, after all, abandoned him after his arrest.
Jesus did not only appear to them. He told them some of the greatest news in the Gospel, that he would be with them (and us) always! He commissioned them to go and make disciples of all nations and to baptize them in the name of the Father, the Son, and the Holy Spirit. This encounter helped the disciples move from hiding in fear to being courageous evangelizers.
Like the disciples, we may at times be hesitant to believe that God will meet us where we are, and to allow our encounters with God to make a difference in our lives. However, having faith and responding to our encounters with the Trinity – Father, Son, and Holy Spirit – will open up new horizons for us and may help us to find needed direction in our lives.
What encounters have changed the direction of your life? How did you see God in those encounters?
Adapted from "Word on the Go", a downloadable resource from RENEW International