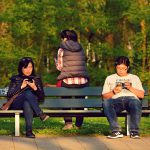 Have you ever been with someone who spends much of the time checking his or her cell phone or writing and receiving texts? It is as though you were not there.

Have you ever had a conversation with a co-worker, neighbor, relative, friend, or family member in which a controversial topic came up—especially regarding politics or religion? Neither side really listens, and one or both may get hostile. How would that affect your relationship and your connection to truth?

Scenarios like these are part of the great disconnect that haunts our society.

There are many things that can break us apart, and not all are controversies or annoyances or misunderstandings.

For example, we live in a very mobile society. Young people grow up with beloved families and friends and then go away to school or military service and never come back except to visit. A person gets married and has children, and whether he or she stays local or moves away, lives in a different world. Other people change jobs, either because they see better opportunities or get laid off. Perhaps they had good relationships in the old job, but they lose touch with most or all of their former co-workers. Some relationships may survive such changes, but many do not, at least not on the same level of connection.

We live in a very fast-moving, disconnected society; yet, there is always hope for connections and reconnections rather than isolation. That's because most of us are naturally communal beings.

Remember when you were a child and were taught that you and all people were created in the "image and likeness of God"? Did you associate that idea with God the Father or with Jesus, the Son of God? What about the Holy Spirit, the forgotten member of the Trinity?

If, as we believe, God is a community of equal persons, and we are created in the image of this communal God, then we, too, are called to be communal, living in relationships with others. This is the great mystery of God's everlasting love, a community of love.

Yet, we are torn in so many directions, so distracted by cell phones, the Internet, social media, cable TV, and video games that we can lose one another and drift into isolation and perhaps depression.

When was the last time you had a deep and meaningful conversation with someone you love?

Are you involved in a community—whether spiritual, healing, or intellectual—or in a cause beyond yourself? Perhaps your involvement is local, connected with your school, place of worship, or a community-based service program. Maybe you are attracted to a national organization or movement for justice or protection of the environment or another issue that is in your heart but has not yet involved your presence.

We each have different interests, beliefs, personalities, and availability, but we all need connections, some form of community and belonging. Yes, we are all living in the mystery of God's community of love, created in the image of a loving God who is a community of persons. Let us rejoice in who we really are and who we are called to be.

Bill Ayres was a founder, with the late singer Harry Chapin, of WhyHunger. He has been a radio and TV broadcaster for 40 years and has two weekly Sunday-night shows on WPLJ, 95.5 FM in New York. He is a member of Our Lady Queen of Martyrs Church in Centerport, New York.