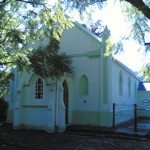 Shanty houses made of corrugated iron sheets offer an unpleasant welcome to visitors to Bedford, South Africa. Almost all the houses are run down and there is very little greenery. In recent years, the Afrikaans-speaking township experienced a severe drought that lasted for two years. The only drinking water came in by tanker trucks. The bare brown soil begs for the rain's attention.

Mini, Rosie, and Angie were the only remaining members of a once numerous Catholic Women's League in St. John Parish, part of the Diocese of Port Elizabeth. Their primary activity involved running a food pantry, striving to stave off starvation for families in Bedford with no source of income. Although their treasury was empty, the women did not give up. They continued to run the soup kitchen, and they continued to pray. Their prayers were answered when a woman who had participated in a RENEW Africa workshop asked to join the CWL. That day marked a turnaround for the group—other women began to join the CWL, and the league's treasury began accepting donations, including help from other CWL groups in the diocese.

Mini, Rosie, and Angie began hosting RENEW Africa workshops in October 2007. These women put pitchers of fresh water on each table for every RENEW Africa meeting, and prepared tea and sandwiches for participants. There was no mention of the difficulties involved because of the severe drought that plagued the region for two years. For the closing prayer of the workshop, all gathered in a circle with Rosie, Mini, and Angie in the center and prayed for their needs and for rain for the area.

However, their difficulties were not over. Despite the great enthusiasm they expressed for small Christian communities at the workshops, no one joined RENEW Africa. Undaunted, the five women who made up the CWL formed their own small Christian community. As they continued with the process and reflected on how to reach out, they decided to begin home visits.

At each house, they introduced themselves and asked if they might visit for a while. During the exchange they became more aware of the various needs of the families and offered to pray with their hosts. As they continued their visitation, word got around that they brought compassion and understanding, and that they were very discreet. One day, a deacon from a Protestant Church approached them. "Please come to my house. I want to talk to you." When asked why, he replied, "I am having family problems, and I can't talk about them in my parish. I've heard that you are very helpful and that you can keep things in confidence."

Mini, Angie, and Rosie are striking witnesses of women's strength. In the midst of poverty and deprivation, even in the midst of obstacles to the ministry of evangelization through small Christian communities, they carry on. More importantly, they evangelize by their witness and by their dedication to announcing the Good News in whatever way God leads them. These women show us how to live our baptism in the world today: they stand firm in their commitment to Christ and live it by reaching out to others without judgment, demonstrating God's unconditional love for all. The women's dedication is surpassed only by their wisdom, faith, and courage in the face of difficulty.

Sister Marie is a member of the RENEW staff, a Sister of St. Joseph of Cluny, and the Project Leader for RENEW Africa.