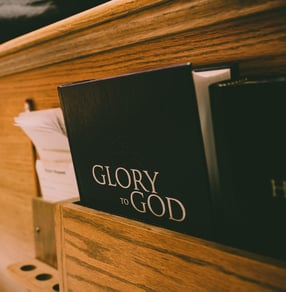 Every time I hear the priest during the consecration at Mass echo Jesus' words "Do this in memory of me," I think that this is something Jesus wants us to do—almost like a command—but it is the best direction or responsibility he could have given his followers: Receive the true Body and Blood of our saving Lord! That is better than winning any lottery or taking any life-saving, tried-and-true medication!
To receive the actual Body of the Lord into your own body, to be that intimate with Christ, who died on the cross and rose from the dead, and who is the Second Person of the Trinity is such a tremendous gift to each of us! What an awesome invitation he gives us at every celebration of the Eucharist! I am so blessed to comply!
And how about that prayer we say at Mass, the "Gloria"? We say, "We praise you, we bless you, we adore you, we glorify you, we give you thanks for your great glory." What we are doing is really helping us! We are giving the attention, praise, gratitude, and honor to God, and taking the focus off ourselves! God won't be less of who he is if we don't do this, but we gain by reinforcing our understanding, as we prioritize and emphasize who deserves our love and attention. We are creatures with emotions and intelligence; we are reminded that we should use our power and creativity to give proper time and attention to acknowledge who God is and that he is always with us.
Anytime we praise God, we call to mind his many attributes. At the same time, we humbly accept our dependence on him. We put things in the right order. We turn our eyes outward instead of inward. We call upon the Holy Spirit to help us to pray. When we thank God, we are really reminding ourselves to give credit where it is truly due.
In his letter to the Ephesians (5:18b-20), St. Paul advises us,
[Be] filled with the Holy Spirit, as you sing psalms and hymns and spiritual songs among yourselves, singing and making melody to the Lord in your hearts, giving thanks to God the Father at all times and for everything in the name of our Lord Jesus Christ.
Now, I know not all of us have superb singing voices, but let's think about this. Most of us do appreciate some kinds of music. Music is a departure from the drone of spoken words. It can cause a change of mood in us, even a respite from stress. When we sing, our thoughts and prayers can dance in the air. Even if no one else can hear us, our singing a jingle or humming a tune can lighten our load. We can take a familiar refrain from a popular song and change the lyrics into little prayers. "For he's a jolly good fellow" could become, "Praise God, my loving Father." What is important is the essence of the praise. The praise comes first! If we feel good that we are praising him musically, that is a plus!
If we take in God's gifts, the great spiritual side effects are there to help us grow. If we pass on the good news as we put others' needs ahead of our own, we can find joy in the right order.
†††
Photo by Brett Sayles (detail) from Pexels
The Scripture passages are from the New Revised Standard Version Bible: Catholic Edition, copyright © 1989, 1993 the Division of Christian Education of the National Council of the Churches of Christ in the United States of America. Used by permission. All rights reserved.
Sharon Krause is a RENEW volunteer whose writing has appeared in several resources for small-group faith sharing. She is a wife, mother, and grandmother residing in Manchester, Connecticut. Over the years, she has served in many parish ministries.