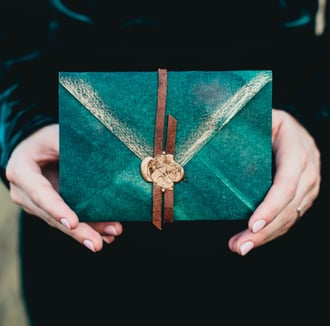 It is easy to take gifts for granted. We don't set out to be ungrateful, but when a gift is not something we can hold in our hands, we might become a bit oblivious to its value and implications.
I am thinking about our gift of faith in God. We might not talk about it much. We might not even act on our beliefs until some big challenge or tragedy pops up in our lives. But faith is truly a blessing. It is our passport to eternal life with our loving Trinity.
Let us consider five aspects of faith as we look at the letters in the word, faith.
F—Fundamentals. We read in the passage from the Book of Exodus included in today's liturgy that God delivered commandments to through Moses. In these commandments, God communicated what was expected of us. We have the basic rules of how to love God and others. God spelled it out for us. We can easily ignore the commandments, rationalize our behavior, or make excuses, but we cannot say we were not informed.
A—Alienation. Because of the sin of Adam and Eve, humankind was alienated from God. God did promise to help us, although mankind wandered and sinned for many years. Prophets spoke of hope. People struggled. There were good, God-fearing men and women who did the best they could. No more Garden of Eden, but an ark was built. Life went on.
I—Incarnation. With Mary's cooperation, God sent His Son into our desperate world to teach us, to save us, to die for us. We are the Son's disciples, and we must whole-heartedly praise and thank Jesus for all that he generously did for us. He still heals and teaches us, but we have to be open and attentive. And the Word that became flesh still offers himself daily as Eucharistic food to nourish us and strengthen our faith.
T—Triumph. On Easter, we experience the triumph of the resurrection of Jesus from the grip of death. We believe that our abused, maligned, crucified Jesus was raised from death to make heaven available to all of us. All that he endured for our sake should make us ever more eager to spread the good news about him. His victory is an eternal victory, and we are the beneficiaries!
H—Holiness. With the coming of the Holy Spirit at Pentecost, we, the faithful, are given gifts so that we may more effectively, more lovingly, interact with others to share what we have learned about God's Kingdom. We can come to understand how to separate ourselves from things of this material world and take time, even before we die, to be with God in prayer and adoration.
We who have been given the gift of F-A-I-T-H can happily read from St. Paul's letter to the Ephesians (2:8-10),
For by grace you have been saved through faith, and this is not your own doing;
it is the gift of God—-not the result of works, so that no one may boast. For we
are what he has made us, created in Christ Jesus for good works, which God
prepared beforehand to be our way of life.
†††
Photo by Taisiia Shestopal on Unsplash (detail)
The Scripture passage is from the New Revised Standard Version Bible: Catholic Edition, copyright © 1989, 1993 the Division of Christian Education of the National Council of the Churches of Christ in the United States of America. Used by permission. All rights reserved.
Sharon Krause is a RENEW volunteer whose writing has appeared in several resources for small-group faith sharing. She is a wife, mother, and grandmother residing in Manchester, Connecticut. Over the years, she has served in many parish ministries.