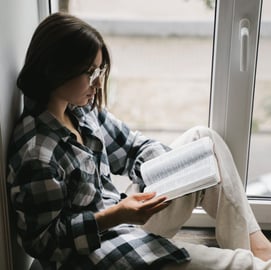 There are 22 verses in Psalm 34, six of which are prayed during the liturgy today. If you have ever prayed with Psalm 34, you probably realize how uplifting and reassuring it is. Instead of breezing through only the six verses, it is good to read and pray with the whole psalm, especially in this transitional time as the pandemic seems to be abating somewhat.
This psalm is a call to prayer and praise. We read the words "praise," "be glad," "magnify," and "exalt." These are not words we commonly use in our mundane conversation. When we use them as we talk about our relationship with God, we should feel joyful and positive. There is a call for praying and praising with others:
O magnify the Lord with me, and let us exalt his name together. (verse 3)
In the next few verses, we read that we are "answered," "delivered from fears," "heard" and "saved" by the Lord. If we need a dose of optimism, here we are! We are encouraged and advised,
...happy are those who take refuge in him. (verse 8b)
...those who seek the Lord lack no good thing. (verse 10b)
We are being taught in this psalm to watch our language, keep away from evil, do good, and advocate for peace. That should keep us busy as we strive for holiness! The psalm makes it sound as if all this is doable. It is a rally call for moving forward with God's help and with God as our goal.
We are assured that the righteous have God's eye and ear, that he is near to rescue them. We have all probably, at one time or another, felt broken-hearted; God is never far away, and we can call on him night or day.
Sure, we do run into trouble such as sickness, loneliness, accidents, doubts, conflicts, setbacks, and lapses in good judgement, but we are told in this psalm that the Lord is there to redeem us. Verse 19 says,
Many are the afflictions of the righteous, but the Lord rescues them from them all.
As we venture forth in a world trying to conquer COVID, let us vaccinate ourselves with this beautiful psalm. Let's continue to pray that we can become more and more immune to evil temptations and fake shortcuts to better living and better loving.
I will bless the Lord at all times; his praise shall continually be in my mouth. (verse 1)
As I was composing this little blog post, I stumbled upon a short psalm that is also very reassuring at this time. I will end with words of hope from Psalm 131:2:
But I have calmed and quieted my soul, like a weaned child with its mother; my soul is like the weaned child that is with me.
†††
Photo by Tima Miroshnicenko (detail) on Pexels
The Scripture passages are from the New Revised Standard Version Bible: Catholic Edition, copyright © 1989, 1993 the Division of Christian Education of the National Council of the Churches of Christ in the United States of America. Used by permission. All rights reserved.
Sharon Krause is a RENEW volunteer whose writing has appeared in several resources for small-group faith sharing. She is a wife, mother, and grandmother residing in Manchester, Connecticut. Over the years, she has served in many parish ministries.