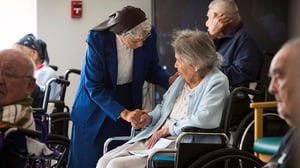 God of abundance
you challenge us to give food to those who hunger:
Help me to feed those
who go without food and drink.
God of love
you challenge us to give drink to the thirsty:
Help me to reach out to those
who thirst for your love.
God of all
you challenge us to welcome the stranger:
All Help me to overcome my biases
toward people of other faiths and traditions.
God of protection
you challenge us to clothe the naked:
Help me to aid those
who feel most exposed and abused in our society.
God of healing
you challenge us to care for the sick:
Help me to bring your healing
to those who suffer mentally, physically, or emotionally.
God of peace
you challenge us to visit those who are imprisoned:
Help me to reach out to those around me
who are imprisoned by hate or addiction.
We pray in the name of Jesus Christ the King.
Amen.
Adapted from The Word on Campus © RENEW International.