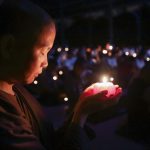 Holy triune God, you dwell within each of us.
Help us to know that the light of your Presence
is truly realized in each of us.
Help us to become your light for the world,
and to see beyond the false divisions
that separate us from one another
so that we may truly live as reflections of your love,
as we await the fulfillment of your reign here on earth,
O God, Father, Son, and Holy Spirit.
Amen.

Adapted from The People's Prayer Book, © RENEW International.