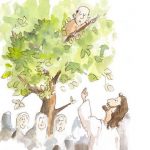 Lord Jesus,
you called Zacchaeus by his name
and you helped him to grow.
Enter our lives in that way today,
calling us by our names,
so that we may grow
and be the persons you call us to be.
Amen.

Adapted from PrayerTime, Cycle C, © RENEW International.
Image courtesy of Freebibleimages.org.