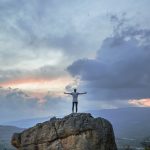 Sustainer God,
you are the rock
who gives us solidity and stability
in a shifting and chaotic world.
Help us to be grounded in your infinite love,
a love that finds life
peeking through the cracks of our desolate situations.
May we be witnesses to this life;
a foundation for those who are in need of love and hope.
We ask this in the name of our brother, Jesus,
who taught us to ground ourselves in you.
Amen.

Adapted from The Word on Campus © RENEW International.