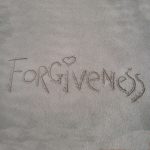 Good and gracious God,
your Son's teaching on forgiveness
is hard to put into practice.
Yet forgiveness brings us peace and harmony
not only within ourselves
but also with others and with you, our Creator.
Enable us to let go of our painful memories and
to experience the healing power of forgiveness
that you continue to offer us.
May we be more willing to offer forgiveness
so that we will also receive forgiveness.
We ask this through Christ our Lord.
Amen.

Adapted from The Word on Campus © RENEW International.