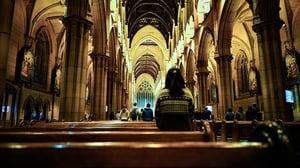 The start of this month made me realize that we have been living in a pandemic life for half a year. What started as a whisper, a rumor, has taken over our everyday lives, and the effects are limitless. The struggles and losses have been tremendous and heartbreaking.
I have walked through many of the past few months a little numb, pushing out feelings and trying to figure out how to grieve what was lost. Many of my prayer-life routines fell apart, I could no longer attend Mass, or go to adoration. My weekly Bible study group started meeting over Zoom, and although the experience was still fruitful, it felt different. Now, months later, I've settled into this new prayer life.
My closest friend and I spend the summer living a few hours away from each other. We called each other often and did a book study together to keep us grounded in our faith and engaged in conversations. We began and ended the calls with prayer, and although it was not the same as our usual prayer around a kitchen table, it was still good.
Each diocese has different guidelines on safety and social distancing, but where I live, in the Diocese of Austin, Mass has been opened to the public with limited attendance. I often look around daily Mass and see familiar eyes and wave from a distance. I also attend a socially distanced adoration on my university campus. A few weeks ago, I looked around during adoration and saw four other women, our faces masked, our bodies separated, but our souls united in conversation with Jesus.
Once or twice a month I go to the campus chapel to lector for our live streamed Mass on Sunday evenings. What used to be a packed Mass of 100 students has turned into 10 select individuals, sitting far apart and with masks on, and a camera recording the whole thing. This is what prayer in a pandemic looks like.
Your experience is most likely different from mine. Maybe you've had the opportunity to physically return to your parish, or maybe you're still live-streaming Mass to your living room. Perhaps you've formed online prayer groups or have grown in fellowship with your family. No matter what, all of our prayer lives have changed. The beautiful message is that Jesus still meets us in prayer, no matter where we are.
Photo credit: Fidel Fernando
Jessica Guerriero is the coordinator of RENEW's Theology on Tap program and a student at St. Edward's University in Austin, Texas.