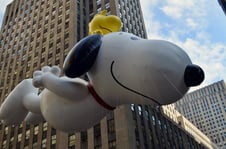 As we get close to Thanksgiving, we hear on the media about the Macy's Thanksgiving Day parade, which will be a very different even this year because of the COVID pandemic.
That parade, as well as preparations for Christmas, can bring to mind pleasant holiday memories. To sit back and relax as the memory pictures cavort in procession before our mind's eye can make us very sentimental and grateful. Of course, we can become nostalgic and even sad if we consider our losses and some of the virus-triggered changes in our more recent history.
So what can we do to keep ourselves peaceful and open to holiday joy? I think it requires a conscious effort to remain positive as so much negativity parades around us. I like to think of other parades in my life.
When I was a little girl, my mother used to take me to see the local Independence Day parade. My uncle was a member of the fire police, so I would watch for him to march past where I was standing. When I saw him coming and heard the band playing, I would start mischievously dancing around—-just off the curb and into the street—only to be quickly pulled back by my mother. It was a happy dance and is a happy recollection.
When I was in fifth grade, I was marching with my class in a procession honoring our Blessed Mother. I liked being first in line, and so I was that day. However, I got distracted and did not notice that Mother Mary Edith, our teacher and procession leader, had stopped for some reason. Well, I just kept walking and walked right into her. No big deal, but I was a very embarrassed 10-year-old. Now it makes me smile.
Over the years, with joyful excitement, I have walked in lines and have witnessed loved ones marching in lines at convocations, graduations, and weddings; and I realize how blessed I have been. Jesus has been there with me. He is here with all of us now. So let His presence and our good memories help to keep us hopeful. We read in 2 Corinthians 2:14:
But thanks be to God, who in Christ
always leads us in triumphal procession,
and through us spreads in every place
the fragrance that comes from knowing him.
We might try doing some Bible reading from a different perspective; there are a number of processions mentioned, such as in the books of Joshua, 1 Samuel, and 2 Chronicles, and even an ode for a royal wedding in Psalm 45. So often the processions are celebratory and accompanied by music.
As I have mentioned in the past, we have the Communion of Saints praying for us as well. We have the promise of eternal life with our merciful Father, so with joy we may ultimately be part of another parade.
Oh, when the saints go marching in
Oh, when the saints go marching in
Oh Lord I want to be in that number
When the saints go marching in.
Image by Brent Connelly on Pixabay.
The scripture passages are from the Revised Standard Version of the Bible: Catholic Edition, copyright © 1965, 1966 the Division of Christian Education of the National Council of the Churches of Christ in the United States of America. Used by permission. All rights reserved.
Sharon Krause is a RENEW volunteer whose writing has appeared in several resources for small-group faith sharing. She is a wife, mother, and grandmother residing in Manchester, CT. Over the years, she has served in many parish ministries.