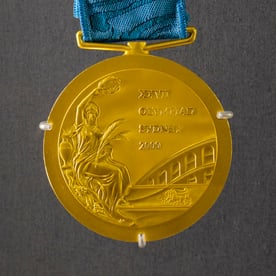 What if loving God and loving others were Olympic events? Who could participate? When we are baptized and receive the sacrament of confirmation, with the gift of faith and the many gifts of the Holy Spirit, we certainly qualify.
We would exercise an abundance of self-control, as we go the distance, perhaps in record time, to share God's love and compassion with those who are in need. We might even bend over backwards to help a person who is challenged in some way.
We have the best coach we could ever have in Jesus Christ who gave his personal best to save us. He certainly should have first place in our hearts and minds.
So we experience trials, but we can creatively execute a medley of loving prayers and actions to show our love for our Creator as we spread God's Kingdom here on earth. No matter what countries are represented, everyone can speak the language of love.
While it is exciting to receive medals, God's amazing grace will forever shine in our hearts. Let the games continue in peace and joy!
†††
Photo by Aditya Joshi on Unsplash
Sharon Krause is a RENEW volunteer whose writing has appeared in several resources for small-group faith sharing. She is a wife, mother, and grandmother residing in Manchester, Connecticut. Over the years, she has served in many parish ministries.