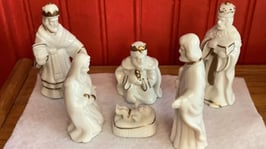 Every year, when I unpack all my Christmas decorations, I display a little white ceramic Nativity set. It has a sticker on one of the six pieces that says, "Made in China." I do not remember where or from whom I got the figures, but something about them is very appealing to me. So much for my expensive taste, eh?
The white color reminds me of the purity of Mary, Joseph, and the Savior Infant. The three-inch, four-inch and one-inch figures reflect the light in the room and attest to the radiance of the family's holiness. The little touches of gold paint tell me that this is also a regal family: members of God's kingdom. Wrapped in the folds of the parents' clothes, I can imagine, are all the ins and outs of their experience to arrive at this holy event.
The baby's arms are outstretched. I remember the first time I held my baby girl. She stretched out her arms as she searched to ascertain her safe surroundings. Jesus in this Nativity set is sending a message of openness to the human experience—safe or not— and a willingness to become available to all the world.
The three kings, with their crowns and special gifts for the Christ Child, quietly stand to complete the sixsome. Their attire is certainly fancier that that of the other three figures, but I know that people from all stations in life are drawn to adore Jesus. The king bear gifts. I ask myself, are there some special gifts or sacrifices I can offer Jesus this Christmas season? Maybe I could just spend some extra time conversing with him?
It is a simple Nativity set, but in its simplicity, I can find comfort. Sometimes life is full of too many details and demands. In this universe I, myself, often feel very small; and that is the wonder of Christmas: that God the Father, with his loving, generous heart, sends little me and all of us a Savior who wins for us the gift of eternal life.
I usually stand these little statues on a piece of white felt, not to make it look as if the figures are perched in snow but to continue that sense of quiet innocence. I have a more colorful Nativity set with bigger figurines, but somehow this small set can provide more prayerful inspiration for me.
Blessed, holy Christmas season to us all!
Sharon Krause is a RENEW volunteer whose writing has appeared in several resources for small-group faith sharing. She is a wife, mother, and grandmother residing in Manchester, CT. Over the years, she has served in many parish ministries.