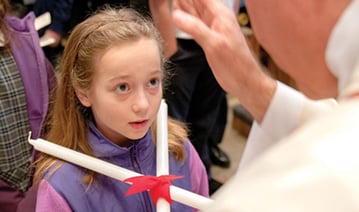 Dane was a big girl. She sat behind me on the school bus that transported us to a private high school in a nearby town. My cousin, Donna, was sitting next to me. I don't recall what I said to Dane or what exactly provoked her, but, to my surprise, she grabbed the two ends of my winter scarf that was draped around my neck and proceeded to pull. I don't think she was trying to end my life or even injure me, but she certainly scared me.
Dane was twice my size and probably did not realize her own strength. I poked Donna and she reached over and freed me from my predicament. I suffered no ill after-effects from the incident, but when my mother saw the remaining irritation mark on my neck when I got home from school, she had quite a phone conversation with Dane's mother. Needless to say, I did not sit in front of Dane on the bus after that.
What brought that incident to my mind? Well, February 3, the memorial of St. Blaise, is the day we Catholics have our throats blessed in church. St. Blaise, a doctor and bishop of Sebastea, in what is now Turkey, is credited with having saved a child who was choking on a fishbone. Saints & Angels Catholic Online tells us that St. Blaise was a "physician of souls" and a "beast tamer" as well.
So have you thought about your throat lately? Thanks to our throat, we can speak, swallow, and breathe. The functions of our throat help us to live and thrive. Our throat helps us move what is outside our body to inside. What a wonderful invention! Sometimes we clear our throats to get others' attention. Sometimes we gargle in our throats to soothe irritation or improve the scent of our breath. At times, we swallow back emotion as we are touched by a spirited song or event. And there are great singers who make beautiful music with the help of their very talented throats.
Did you ever think of how every time we receive the Lord in the consecrated host of Holy Communion our throat comes into direct contact with the Saving Body of Christ?
We can sing songs of praise to God, shout hallelujah, say kind words to our neighbors in Christ with the use of our throats!
The priest holds the two candles to your neck and prays:
Through the intercession of St. Blaise, bishop and martyr, may God deliver you
from every disease of the throat and from every other illness: in the name of the
Father, and of the Son, and of the Holy Spirit.
Perhaps this year, when we answer: Amen, we might think a little harder about how grateful we are for the gift of our throat!
†††
Catholic News Service photo by Mike Crupi, Catholic Courier, Diocese of Rochester.
Sharon Krause is a RENEW volunteer whose writing has appeared in several resources for small-group faith sharing. She is a wife, mother, and grandmother residing in Manchester, Connecticut. Over the years, she has served in many parish ministries.