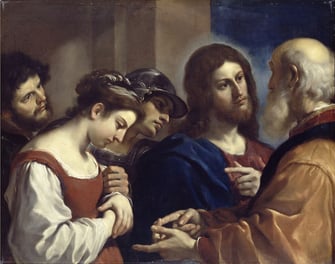 Lent is an ideal time to remember how Jesus forgives sinners. Below are six "medi-stations" based on gospel accounts wherein Jesus forgave sinners publicly.
1. Jesus forgives a paralytic. In Mark's Gospel (2:1-12), we read of a paralytic who was brought to Jesus for physical healing. After four companions lowered the man from an opening in the roof. Jesus first said, "Son, your sins are forgiven" (v. 5). Jesus teaches about priorities. Certainly, it is important to be able to walk; but having one's sins forgiven is even more important. How are my priorities this Lent? Should I walk on over to the Sacrament of Reconciliation? The all-powerful, all-loving Jesus will give us a clean bill of spiritual health if we ask for it in faithful prayer.
Happy are those whose transgression is forgiven, whose sin is covered. Happy are those to whom the Lord imputes no iniquity, and in whose spirit there is no deceit. (Psalm 32:1-2)
2. Jesus forgives a woman caught in adultery. In John's Gospel (7:53-8:1-11), Jesus says he will not condemn an adulteress and cautions her not to sin again. Jesus had just told the people watching, "Let anyone among you who is without sin be the first to throw a stone at her" (v. 7). Am I quick to judge other people? Have I ever considered sharing with others little strategies I have used to help me refrain from some sinful behavior? Helping can be better than criticizing.
Then I acknowledged my sin to you, and I did not hide my iniquity; I said, "I will confess my transgressions to the Lord," and you forgave the guilt of my sin. (Psalm 32:5)
3. Jesus says salvation has come to the house of Zacchaeus. Jesus says salvation has come to the house of Zacchaeus. In Luke's Gospel (19:1-10), Jesus tells Zacchaeus that salvation has come to his house and that the lost has been saved. Zacchaeus was inspired by Jesus to atone and make reparations for all his sins as the chief tax collector in Jericho. He did not just climb a tree but also climbed out of his sinful ways of extortion. At times, I might feel that my sinful habits are too hard to overcome; but if I invite Jesus to stay at my house and help me to be persistent in prayer, I can be hopeful and willingly keep trying.
Create in me a clean heart, O God, and put a new and right spirit within me. Do not cast me from your presence, and do not take your holy spirit from me. Restore to me the joy of your salvation, and sustain in me a willing spirit. (Psalm 51:10-12)
4. Jesus forgives the woman who kisses and anoints his feet. In Luke's Gospel (7:36-50), Jesus tells a sinful woman that her faith has saved her and that her sins are forgiven. The woman was very public about showing her sorrow, her love for Jesus, and her faith. Do I keep my faith very private? Am I reluctant to share good faith experiences with others? Everyone likes a good story. I should look for chances to let others know about the love Jesus has for each of us!
O Lord, open my lips, and my mouth will declare your praise….The sacrifice acceptable to God is a broken spirit; a broken and contrite heart, O God, you will not despise. (Psalm 52:15, 17)
5. Jesus asks his Father for forgiveness for the soldiers who crucified him. We read in Luke's Gospel (23:33-34) that Jesus said, "Father, forgive them; for they do not know what they are doing" (v.34). While we don't know how many people heard the words the dying Christ prayed, we learn how deep Jesus' love and forgiveness was for his killers. His mercy poured forth just as did his blood. How broadminded and forgiving can I be? Do I hold grudges against others? Don't I know that grudges hurt me more than the people against whom I hold the grudges? Lord, give me a forgiving heart!
The Lord is merciful and gracious, slow to anger and abounding in steadfast love. He will not always accuse, nor will he keep his anger forever. He does not deal with us according to our sins, nor repay us according to our iniquities. (Psalm 103:8-10)
6. The risen Jesus asks Peter three times if he loves him. In John's Gospel (21:15-18), we read that the risen Jesus asked Peter three times, "Do you love me?" Peter, who had denied Jesus three times, answered in the affirmative. Jesus lovingly gave Peter more chances to be his special disciple who feeds and tends Jesus' flock of followers. Am I grateful for all the chances I have been given to be a faithful follower of Jesus? Do I tell Jesus three times a day that I love him?
For as the heavens are high above the earth, so great is his steadfast love toward those who fear him; as far as the east is from the west, so far he removes our transgressions from us.
†††
Painting: Christ with The Woman Found in Adultery, Giovanni Francesco Barbieri (Guercino), 1621.
The scripture passages are from the Revised Standard Version of the Bible: Catholic Edition, copyright © 1965, 1966 the Division of Christian Education of the National Council of the Churches of Christ in the United States of America. Used by permission. All rights reserved.
Sharon Krause is a RENEW volunteer whose writing has appeared in several resources for small-group faith sharing. She is a wife, mother, and grandmother residing in Manchester, Connecticut. Over the years, she has served in many parish ministries.