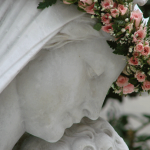 "All things seem possible in May."

That observation by naturalist Edward Teale rings true: In May, the memory of winter fades away, new life springs from the earth, and summer no longer seems like an empty promise.

This atmosphere of rejuvenation and hope—ideas that are related to motherhood—has inspired Christians in many cultures to dedicate the month of May to Mary, the mother of Jesus.

In a way, they are emulating people who came before them: the ancient Greeks dedicated May to Artemis, a goddess associated with such things as hunting, wildlife, wilderness, and childbirth.

For the Romans, May was the month of the goddess Flora who, as her name implied, was associated with flowers and with the season of spring.

The Christian practice of dedicating the month to Mary arose as early as the end of the thirteenth century when King Alphonso X of Castile wrote about devotions to Mary on certain days during the month, but its popularity really began to flourish in the sixteenth century among Jesuits who encouraged it among their students in Rome, as well as in churches in Genoa and Verona.

Honoring Mary during May has been endorsed by the popes, including Pope Leo XIII, who wrote twelve encyclicals and five apostolic letters on the rosary, Pope Pius XII who wrote that the custom of prayer to Mary in May was "of special import and dignity,'' and Pope Paul VI who said the month of prayer to Mary was an especially appropriate time to pray for peace.

Because honoring Mary as "Queen of the May" arose from popular piety, it is practiced in different ways in different cultures.

The most well-known devotion is the "May crowning" in which a statue or icon of Mary is the focus of a procession, prayers, hymns, and some physical manifestation such as a floral crown.

In many places, this crowning takes place on or near May 1, and in some parishes in the United States it takes place on Mother's Day—the second Sunday of the month. In some parishes, the procession and crowning involve the children who have recently received first Communion.

This May crowning practice waned during the 1970s and 1980s, but it has become popular again in more recent years, and many Catholic adults are again hearing a refrain they know from their youth:

O Mary we crown thee with blossoms today!
Queen of the Angels and Queen of the May.

Charles Paolino is a member of the RENEW staff and a permanent Deacon in the Diocese of Metuchen.