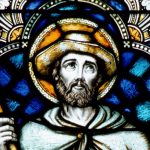 As governors and local officials make crucial decisions about getting states and counties back to more usual routines of conducting business, they might do well to pray for St. Isidore's intercession. I am guessing that humble saint, who is remembered today, May 15, as the patron of farmers and laborers, could easily relate to the hard-working people who have been greatly affected by this pandemic.

Workers at meat and other food-processing plants have had to make the tough choice to stay out of work because of the corona virus. This has disrupted the chain of food production and the personal income of these workers. Even decisions about the humane disposal of animals that are normally sources of food have had to be made.

We know that Isidore, himself a farmer and laborer who knew the value of hard work and proper care of animals, chose to put his spirituality and the love of God and God's poor at the top of his everyday to-do list. Even though unexpected illnesses can affect our freedom of choice at times, Isidore's example of a fervent belief in God and God's love for us can keep us going in a positive direction. We can look for charitable options in our relationships with others. It's up to us. We can choose to call our staying at home "confinement," "hibernation," "quarantine," "house-arrest," "isolation," "an unplanned vacation or retreat," "sheltering-in-place" or "hiding out." We can strive to spend the time productively and fruitfully or choose to complain.

In the readings for Friday, the fifth week of Easter, we read about choices. In Acts 15:22-31, the apostles and presbyters have chosen representatives, Judas and Silas, to go to Antioch with Paul and Barnabas to reassure the people that they will not be burdened with excessive religious practices but only abstention "from meat sacrificed to idols, from blood, from meats of strangled animals, and from unlawful marriage." (v.29)

We read in today's gospel passage (John 15:12-17) that Jesus instructs his disciples to love one another, even to the point of choosing to lay down their lives for their friends. Jesus calls them his "friends," and reminds them, "It was not you who chose me, but I who chose you and appointed you to go and bear fruit that will remain…" ( v. 16).

The best thing we can do when we have any choice to make is to pray in Jesus' name for help in making the most selfless and loving decision. After all, Jesus is our friend! He is never on vacation!

(Reference: www.franciscanmedia.org, Saint of the Day)

Sharon Krause is a RENEW volunteer whose writing has appeared in several resources for small-group faith sharing. She is a wife, mother, and grandmother residing in Manchester, CT. Over the years, she has served in many parish ministries.