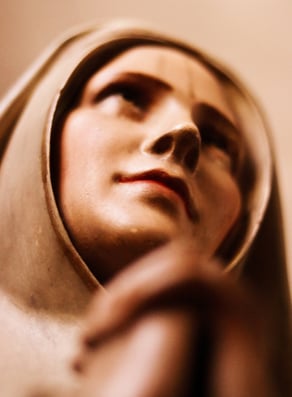 Have you noticed how time flies by, even when a pandemic and bad world news seem to bog us down? It is time to look at the calendar and plug into some hopeful thoughts.
Easter, with all its Resurrection hope and joy, is less than a month away. We still have time to take advantage of the opportunities for repenting, forgiving others, and resetting our priorities where needed. No matter how crazy this world can seem, Jesus offers all of us chances to start over and come closer to him.
In a few days, we will celebrate the hopeful feast of the Annunciation. Despite her age, the teenager, Mary, humbly believes God can do the seemingly impossible and allow her to become the mother of his Son. In the glow of the archangel Gabriel's presence, she looks ahead with generosity and hopeful, faithful submission. If she could trust God's will at her young age, how can we doubt that God will see us through any challenge?
In the Sequence prayer on the feast of Pentecost, we hear that the Holy Spirit is the best of comforters and our soul's most welcome guest. This same Spirit is coolness in the heat and solace in the midst of woe. The Spirit has many gifts to give us, so we need to be receptive all the time, not just at Pentecost. The Third Person of the Blessed Trinity is a healer, a purifier, a guide and shining light to help us combat worldly despair.
In about nine months, on Christmas, we will celebrate that the miracle promised to Mary was made manifest. What hope can we nurture in this gestational time? Can we prayerfully encourage ourselves and others to nurture trust in God's mercy despite the tragedies in this world? Can we grow love and generosity in our hearts and minds so that we offer saving help to others in need?
Psalm 27:13-14 is a good prayer to bolster us:
I believe that I shall see the goodness of the Lord in the land of the living.
Wait for the Lord; be strong and let your heart take courage;
wait for the Lord!
Psalm 63:5-8 gives us good images of joyful trust in God:
My soul is satisfied as with a rich feast, and my mouth praises you with joyful lips
when I think of you on my bed, and meditate on you in the watches of the night;
for you have been my help, and in the shadow of your wings I sing for joy.
My soul clings to you; your right hand upholds me.
†††
Photo by DDP on Unsplash
Scripture passages are from the New Revised Standard Version Bible: Catholic Edition, copyright © 1989, 1993 the Division of Christian Education of the National Council of the Churches of Christ in the United States of America. Used by permission. All rights reserved.
Sharon Krause is a RENEW volunteer whose writing has appeared in several resources for small-group faith sharing. She is a wife, mother, and grandmother residing in Manchester, Connecticut. Over the years, she has served in many parish ministries.