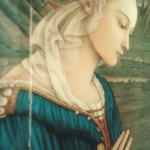 Pope John Paul II in his address on Dec 18, 2000 said, "The liturgy of Advent…helps us to understand fully the value and meaning of the mystery of Christmas. It is not just about commemoration the historical event, which occurred some two thousand years ago in a little village of Judea. Instead, we must understand that our whole life should be an 'advent,' in vigilant expectation of Christ's final coming." "Advent is, then a period of intense training that directs us decisively to the One who has already come, who will come and who continuously comes."
Advent and its personalities tell us something significant about the Christian view of God: He is a God who hears, remembers, and answers the prayers of his people. Advent teaches us how to live our lives vigilantly and awake.
Elizabeth and Zechariah: This couple was childless and old. They had prayed for a son, but their prayers, apparently, had not been heard. One would imagine they had long since stopped praying for a child and had regretfully come to accept their situation. But the first words out of the angel's mouth that morning were "'Do not be afraid, Zechariah, because your prayer has been heard. Your wife, Elizabeth, will bear you a son, and you shall name him John" (Luke 1:13).
How faithful are you when asking God for what you most desire?
Mary and Joseph: Months later, the same angel appeared to Mary to explain that she, a virgin, would become the mother of Jesus. The angel responded to her astonishment by telling her, "And behold, Elizabeth, your relative, has also conceived a son in her old age, and this is the sixth month for her who was called barren; for nothing will be impossible for God" (Luke 1:36-38). Joseph, the just man that he was, trusted Mary and her word. He risked the ridicule and condemnation of others to support her faith in God and His Word.
Do you trust and believe that God can do the impossible? Are you able to honestly share your faith and doubts with God and with those you love?
John and Jesus: They were cousins whose mothers' pregnancies were marked by angelic visits and whose lives were woven together while they were still in the womb. When Mary visited Elizabeth while both women were pregnant, Elizabeth was filled with the Holy Spirit and said, "And how does this happen to me, that the mother of my Lord should come to me? For at the moment the sound of your greeting reached my ears, the infant in my womb leaped for joy" (Luke 1: 43-44). As they got older, John used his talents and personality to prepare others for the Messiah. He was attractive and talented, and his mission was to point toward "the one who is coming after me" (John 1:27).
All of these stories teach us that Advent invites us to hope in the promise that God is calling us to greater things. And He will be with us as we live them out in the ordinariness of our lives and loves.
Sister Honora is the Director of Pastoral Services at RENEW and a Dominican Sister of Amityville, NY.