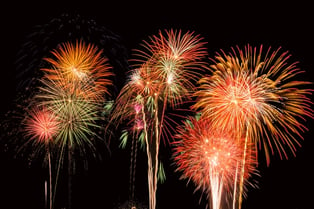 I enjoy working and playing words, sometimes to the exasperation of the "autocorrect" on my iPad. So, I decided to consider words that start with "re" in relation to the year 2021 and how they might relate to bolstering spirituality. Are you ready?
I am not too good with New Year's resolutions, but here goes.
It is a good idea to recommit to your regular prayer time every day. Maintaining a relationship with the Lord certainly has its rewards.
Realize that God is always with us, listening to our prayers and loving us with a merciful love.
We might need to rethink our ways of problem-solving, remembering to ask the Lord's help in understanding his will first for us. The Lord is our refuge and our strength!
Recalling what Jesus did for us—that he redeemed us and set us free—should give us great solace and hope.
In loving our neighbor, it is helpful to recognize God in other people, especially the poor. Reach out!
When we try to learn something, and when we want to emphasize a fact, we repeat it. Notice how many times we repeat in prayers, even liturgical prayers. We stress what is true and important. Let us reassess what we see as truth and really important, and not time-wasting worry. The Lord is with us, and with our spirit!
Let us repent of our bad choices and sinful habits. Renew our resolve to try humbly again to be faithful children of our God. Let us have no regrets! Reconciliation is a blessing!
We could try to reconnect with friends in Christ. Lives and circumstances change, but in today's world, with so much available technology, we can still easily contact people who have moved away. Sometimes there is an individual whose faith inspires or teaches you. Reestablish contact with that person.
If we have a favorite Bible passage, psalm or Bible story, make a point to reread or revisit it often. If we don't have a favorite, get at least one—or maybe one a week!
Despite all the troubles in today's world, we can still rejoice!
There are several places in the Bible where we read of rejoicing. In the Old Testament we read in Isaiah 61:10:
I will greatly rejoice in the Lord, my whole being shall exult in my God; for he has clothed me with the garments of salvation, he has covered me with the robe of righteousness, as a bridegroom decks himself with a garland, and as a bride adorns herself with her jewels.
In the New Testament, we read in 1 Thessalonians 5:16-18:
Rejoice always, pray without ceasing, give thanks in all circumstances; for this is the will of God in Christ Jesus for you.
Let us conclude musically with Psalm 33:1-3:
Rejoice in the Lord, O you righteous. Praise befits the upright.
Praise the Lord with the lyre; make melody to him with the harp of ten strings.
Sing to him a new song; play skillfully on the strings, with loud shouts.
Oh, and incidentally, a new year is a good time to revisit the many resources available from RENEW International!
Photo by Weston MacKinnon on Upsplash.
The scripture passages are from the Revised Standard Version of the Bible: Catholic Edition, copyright © 1965, 1966 the Division of Christian Education of the National Council of the Churches of Christ in the United States of America. Used by permission. All rights reserved.
Sharon Krause is a RENEW volunteer whose writing has appeared in several resources for small-group faith sharing. She is a wife, mother, and grandmother residing in Manchester, Connecticut. Over the years, she has served in many parish ministries.