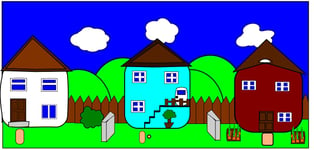 Just for a little change of scenery, my husband and I will sometimes take a car ride. We go past neighborhoods that I visited years ago when I pursued customers for my direct- sales decorating business. Other times, I think about neighborhoods where we or our friends or relatives have lived. It is interesting what memories pop up as certain houses or businesses come into view.
Each neighborhood can have a kind of personality. When I was a little child, my neighborhood was very friendly, with many senior citizens. I could safely and freely visit Mrs. Cudney on her porch or expect an enthusiastic return good-morning wave from Mr. Nelson. When Mr. Buckley's wife died, neighbors took up a collection for flowers and brought him dishes of food.
When I was first married, I lived in an apartment on a very busy state road, and houses were a bit far apart, so I did not get to meet many of my neighbors. Our next neighborhood was in the historic part of a town, with old apartment houses that used to accommodate silk mill workers. That neighborhood had a mix of old and young friendly families. It was close to a grammar school, a bus route, a bank branch, a pharmacy, a grocery store, a restaurant, and even a postal substation. It lent itself to both business errands and pleasant strolls. It was great for a young family.
Lately, I have thought about neighborhoods that Jesus knew. Imagine living near the young boy Jesus in Nazareth. I am sure it was not a materially wealthy neighborhood, but I guess Jesus' family managed, with Joseph plying his respectable craft. I can visualize Jesus helping Mary with household chores. I wonder if Jesus got to visit with his mother's parents, Anne and Joachim. Was it a close-knit neighborhood?
And how about the years of Jesus' public ministry? Was it the talk of the Cana neighborhood after Jesus miraculously turned water into wine at a marriage feast? (John 2:1-12) He ministered in the towns and villages of Galilee, Judaea, Peres, Samaria, and Bethany. I cannot help but wonder if it was the paralytic's neighbors who kindly lowered him on his bed through a hole in a house roof so that Jesus could heal him (Luke 5:17-26).
The demoniac in the country of the Gerasenes (Mark 5:1-20) lived in a neighborhood of tombs and mountains and apparently strongly resistance others nearby who tried to restrain him. Jesus commanded the unclean spirits to come out of the man and enter a herd of swine that subsequently rushed down the hill into the sea and drowned. Word spread fast! Verse 20 tells us what the freed man did:
And he went away and began to proclaim in the Decapolis how much Jesus had done for him; and everyone was amazed.
How about the death and raising of Lazarus? (John 11:1-44) Martha and Mary were being consoled by friends and Bethany neighbors when Lazarus had been dead for four days and Jesus arrived. Jesus went to the tomb and called Lazarus, and Lazarus came out. Again, the news spread very fast in the vicinity!
So what kind of good news can we spread in our neighborhoods? By our friendliness, solicitousness, and generosity—even in small ways—we can be like Jesus. A friendly wave, a sympathetic ear, a humble witness story about one of God's blessings in your life can all help make you a good neighbor.
The Communion of Saints, comprising our unseen spiritual neighbors, is near to pray for us. And we know the Holy Trinity is with us. St. Paul tells us in Philippians 4:5:
Let your gentleness be known to everyone. The Lord is near.
The scripture passages are from the Revised Standard Version of the Bible: Catholic Edition, copyright © 1965, 1966 the Division of Christian Education of the National Council of the Churches of Christ in the United States of America. Used by permission. All rights reserved.
Sharon Krause is a RENEW volunteer whose writing has appeared in several resources for small-group faith sharing. She is a wife, mother, and grandmother residing in Manchester, Connecticut. Over the years, she has served in many parish ministries.