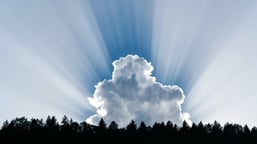 Recently I was awakened in the middle of the night by a noise in the house. My first thought was that Buddy, my cat, might have gotten into some mischief. Not finding anything amiss, I headed back to bed and happened to glance out the window to see that a fog had settled all around my neighborhood.
As I lay back down in my bed, I remembered another fog which enveloped me when I was on vacation in Camden, Maine one summer. My husband and I had gone up to visit Mount Battie, a popular attraction. On the mountain, as we were taking photos and looking out over Megunticook Lake, I caught sight to my left of what looked like a huge bale of cotton gracefully rolling toward us. The experience was truly ethereal. At first, the white foggy mass was thin and almost tantalizing. As the fog quickly thickened, it rolled around us and eventually blocked our view of the lake below. The experience was exhilarating. For a short while, I felt as if I were in a different world.
While the cloud at Mt. Battie temporarily—and almost amusingly—blocked my view, the Lord, in a pillar of cloud by day, led the Israelites out of captivity in Egypt through the wilderness toward the Red Sea. The chosen people had the guidance of their faithful God every day.
Neither the pillar of cloud by day nor the pillar of fire by night
left its place in front of the people. (Exodus 13:22)
With the pandemic, presidential campaign, and media mania, many of us feel as if we sometimes are in a fog. We cannot always see clearly or figure out where to turn; but our Lord is ever-present, and we can confidently depend on him for guidance.
And when you turn to the right or when you turn to the left,
your ears shall hear a word behind you, saying,
"This is the way; walk in it." (Isaiah 30:21)
Thus says the Lord, your Redeemer, the Holy One of Israel:
I am the Lord your God, who teaches you for your own good,
who leads you in the way you should go. (Isaiah 48:17)
There are times when I just roll my eyes and say, "What could go wrong next?" As I roll my eyes, however, I might catch a glimpse of a beautiful cloud picture our Almighty Artist has created above me. For a brief moment, my eyes might be fixed on the unique vaporous distraction, and I breathe a little easier. Those white feather configurations against the blue background can be very calming. I can be moved to pray a few words of thanksgiving for all that does go right in my life.
All these thoughts about clouds remind us that Jesus will come at the end of time in triumph, and hopefully we will be faithful members of the elect that are gathered to him.
"Then the sign of the Son of Man will appear in heaven,
and then all the tribes of the earth will mourn,
and they will see 'the Son of Man coming
on the clouds of heaven' with power and great glory.
And he will send out his angels with a loud trumpet call,
and they will gather his elect from the four winds,
from one end of heaven to the other." (Matthew 24:30-31)
Photo credit: Eberhard Grossgasteiger
Sharon Krause is a RENEW volunteer whose writing has appeared in several resources for small-group faith sharing. She is a wife, mother, and grandmother residing in Manchester, CT. Over the years, she has served in many parish ministries.
The scripture passages are from the Revised Standard Version of the Bible: Catholic Edition, copyright © 1965, 1966 the Division of Christian Education of the National Council of the Churches of Christ in the United States of America. Used by permission. All rights reserved.