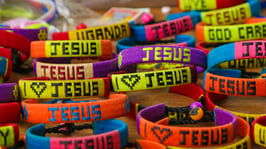 I was sitting in the kitchen half-listening to what my husband was watching on television. All of a sudden, I heard a movie character yell, "Jesus Christ!" He was not having a religious epiphany; he was expressing disfavor at some occurrence in the movie plot. I asked, "What are you watching?" Immediately my spouse changed the channel, he frequently does anyway. It certainly got my attention, but not in a good way.
I got thinking about the misuse of God's and Jesus' name in everyday language, and it is disturbing. How many times I have seen OMG on social media and have heard the expression in everyday conversation. It used to be that "Oh my God!" was the beginning of a short prayer for divine assistance or the start of an acknowledgement of some wonderful blessing from God. It has become a careless habitual expression that really does not call on the Almighty.
God's name and Jesus' name deserve honor and praise. In many instances recorded in Sacred Scripture, names do not just identify people but also define their essence. There are numerous passages in the Bible in which God is referred to with titles or metaphors that point out desirable attributes. For example, we read in Psalm 18:2-3:
The Lord is my rock, my fortress, and my deliverer,
my God, my rock in whom I take refuge,
my shield, and the horn of my salvation, my stronghold.
I have noticed comedians often throw some irreverent language or slang terms into their routines to be outrageous or cause listeners to pay attention. It may give certain individuals a sense of power or control if they disrespect those who are supposed to be respected. However, Romans 12:2 reminds us:
Do not be conformed to this world, but be transformed by the renewing of your minds, so that you may discern what is the will of God—what is good and acceptable and perfect.
In the Lord's Prayer, we say, "hallowed be thy name." "Hallowed" means to keep sacred or holy, used with reverence. We say the prayer so often, we might, out of habit, not consider what that really means. How blessed we are to know God as Father! We are children of the Heavenly King! We must be careful never to misuse the precious name of the Lord. St. Peter quotes the prophet Joel in Acts 2:21:
"'Then everyone who calls on the name of the lord shall be saved.'"
And how about the name of Jesus? We often hear people end their vocal prayer with "in Jesus' name we pray." Why is that? Well, in John 16:23b Jesus tells his disciples:
"Very truly, I tell you, if you ask anything of the Father in my name,
he willgive it to you."
What a loving, powerful name!
So with all respect, I invite the Holy Spirit into our lives in a more vibrant way this Advent season! Celebrating that Emmanuel, "God with us," Jesus, came into this world as our Savior, we may rejoice in proclaiming Philippians 9-11:
Therefore God also highly exalted him and gave him the name that is above every name, so that at the name of Jesus every knee should bend, in heaven and on earth and under the earth, and every tongue should confess that Jesus Christ is Lord, to the glory of God the Father.
What's in his name? Everything!
Photo by Andrew Itaga on Unsplash
The scripture passages are from the Revised Standard Version of the Bible: Catholic Edition, copyright © 1965, 1966 the Division of Christian Education of the National Council of the Churches of Christ in the United States of America. Used by permission. All rights reserved.
Sharon Krause is a RENEW volunteer whose writing has appeared in several resources for small-group faith sharing. She is a wife, mother, and grandmother residing in Manchester, CT. Over the years, she has served in many parish ministries.