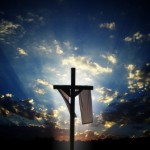 I was listening to a press conference the other day, and a prominent politician spoke to the notion that we in America have lost our sense of hope. He was primarily referring to the economic state of our nation with the lack of jobs, the state of politics in our country, etc. This led him to ask the questions, "Where is there any hope? How can we have hope?" It made me wonder what kind of hope he meant. Is it the hope for material prosperity and success, the kind of hope that does not hang on anything larger than life?

If our sources of success and prosperity are limited to the human resources around us, we are doomed to failure. If all that we do depends on ourselves alone, there can be no hope— no hope of tolerance, no hope of peace, no hope of joy or happiness. Our efforts will achieve some things, but those things will not last if we do not ever acknowledge that we can achieve them fully only with the help of God.

We live in a world that is hurting and in need of healing. That healing must go beyond the material, pain-free existence that we are led to believe only money can buy. The healing we need comes from the joy and wonder of the resurrection, the promise that life is good because it is God's gift to us and the promise of eternal life that has been fulfilled through Jesus' resurrection.

We hear people tell stories of a tornado that destroyed their home or a fire that ripped through a neighborhood leaving many homeless. Yet, even as the survivors tell of their terrible experiences, they reflect, in gratitude, that no lives were lost, and they share the hope that they can rebuild. Where does that spirit come from if not from a sense that they are not alone and helpless?

In this season of Easter, how can we not live in hope? Our hope comes from the power of the resurrection and its promise of eternal life. The magnificence of the Father's love poured out on us through the Son and the wonders of the inspiration of the Holy Spirit that guide us in our choices are the gifts we need to maintain hope that goes beyond our everyday lives. If we bring that hope into our lives, they will never be just ordinary or humdrum. They will be ALLELUIA days!

Scripture tells us that our hope comes from the Lord who made heaven and earth! Praise be to Jesus Christ who did not leave us alone and hopeless but restored us to lives of joy and gladness through the power of his life, death, and resurrection.

Sister Pat is a member of the RENEW staff, a Dominican Sister, and loves working with Young Adults as the program manager of Theology on Tap.