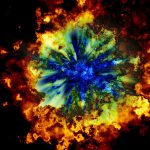 A reading from the Book of the Prophet Daniel
(Chapter 17:10-16)

When you were a child were you ever taught that you had a guardian angel? Well, the archangel Michael was considered to be the guardian of Israel. Here, the prophet Daniel associates the appearance of Michael with these words from God: "Many of those who sleep in the dust of the earth shall awake; some shall lie forever, others shall be an everlasting horror and disgrace. But the wise shall shine brightly like the splendor of the firmament, and those who lead many to justice shall be like the stars forever."

This is one of the few places in which the Hebrew Scriptures talks about life after death. At the time of Jesus, the scribes did not believe in an afterlife, but the Pharisees did. Jesus took the idea much further, promising resurrection and everlasting life to all who believed and followed him—a promise he made to us as well as to people of his own time.

Responsorial Psalm
(Psalm 16:5, 8, 9-10, 11)

"You are my inheritance, O Lord." Did you inherit anything from your family? Was it significant? Did it make a difference in your life? Whether you did or did not inherit wealth, you have a priceless inheritance from Jesus—the presence of the Spirit of God within you every day of your life and the assurance of everlasting life with God. Let us remember this and rejoice in it.

A reading from the Letter to the Hebrews
(Chapter 10:11-14, 18)

Every day, the high priest went into the temple to offer sacrifices for sins. The author says here that these are "those same sacrifices that can never take away sins." With Jesus, it is different: "But this one offered one sacrifice for sins. … For by one offering he has made perfect forever those who are being consecrated. Where there is forgiveness of these, there is no longer offering for sin." Because of Jesus' sacrifice, the ancient sacrifice is no longer necessary. Our path to forgiveness is through Jesus, and it is assured.

A reading from the holy Gospel according to Mark
(Chapter 13:24-32)

For centuries, the Jewish people wondered what the "last days" would be like and when they would come. This is understandable considering all they had been through—exiles, endless wars and subjugation, famines, droughts, betrayals, and numerous false prophets and bad kings.

The disciples of Jesus also wanted to know about the last days. So Jesus told them, "Heaven and earth will pass away, but my words will not pass away. But of that day and hour, no one knows, neither angels in heaven, nor the Son, but only the Father." So, today, amid threats of nuclear war, global warming, massive fires, droughts, and floods, we need not think or worry about a scary end of the world as people have for thousands of years, but rather focus on the present. Our Father wants us to protect our beautiful earth in all the ways we are able but also to live life to its fullest, sharing the gifts we have been given with those we love and with those who may not be loved by anyone.

Excerpts from the English translation of the Lectionary for Mass © 1969, 1981, 1997, International Commission on English in the Liturgy Corporation (ICEL). All rights reserved.

Bill Ayres was a founder, with the late singer Harry Chapin, of WhyHunger. He has been a radio and TV broadcaster for 40 years and has two weekly Sunday-night shows on WPLJ, 95.5 FM in New York. He is a member of Our Lady Queen of Martyrs Church in Centerport, New York.