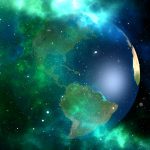 A reading from the Book of the Prophet Daniel
(Chapter 7:13-14)

This is one of the last books of the Hebrew Scriptures, written about 165 years before the birth of Jesus. It was a time of persecution by the Greeks and it is written in the form of an Apocalypse, a popular form of writing at the time. The main character, Daniel, describes a vision of the of the end of the world. He sees "one like a Son of Man received dominion, glory and kingship; all peoples, nations and languages serve him. His dominion is an everlasting dominion that shall not be taken away, his kingship shall not be destroyed."

The title Son of Man appears many times in the Gospels, and it is related to the idea of Christ as king. The notion of kingship is somewhat foreign to us in the United States since we fought a war of independence to free ourselves from a tyrannical king. But the meaning in Scripture is simply that Jesus is all powerful but in a beneficent way. Throughout the history of Israel, the people yearned for such a king and were almost always disappointed. We are never disappointed in Jesus.

Responsorial Psalm
(Psalm 93:1, 1-2, 5)

"The Lord is king; he is robed in majesty." Later in the Psalm, we read, "Holiness befits your house, O Lord, for length of days." That means forever. Our God is forever.

A reading from the Book of Revelation
(Chapter 1:5-8)

This last book of the Bible is the most difficult to read and understand. It is attributed to someone named John, but probably not the same John that wrote the fourth Gospel. It was written during a time of persecution by several Roman emperors and was a polemic against them. The author pictures Jesus as the Son of Man who is "the firstborn of the dead and ruler of the kings of the earth. … who loves us and has freed us from our sins by his blood. … Behold, he is coming amid the clouds, and every eye will see him, even those who pierced him. All peoples of the earth will lament him."

The author is writing to give his fellow Christians faith and courage in the face of persecution at the hands of unjust and cruel emperors. Today, we are fortunate to live in a land of freedom and justice, at least for most. We must cherish our freedom and work to bring freedom and justice for all.

A reading from the holy Gospel according to John
(Chapter 18:33b-37)

This is the famous scene in which Jesus has to defend himself before Pontius Pilate, the Roman procurator in Judea: "Pilate said to Jesus, 'Are you King of the Jews?' Jesus answered, 'Do you say this on your own or have others told you about me?' Pilate answered, 'I am not a Jew, am I? Your own nation and the chief priests handed you over to me. What have you done?'" They have a dialogue about whether Jesus is claiming to be a king and what that could mean. Finally we read, "So Pilate said to him, 'Then you are a king?' Jesus answered, 'You say I am a king. For this I was born and for this I came into the world, to testify to the truth. Everyone who belongs to the truth listens to my voice.'"

Pilate is a very interesting and troubling character. We read in all four Gospels that he does not believe that Jesus is guilty of anything, but he does not have the courage to stand up for this belief. Why? It could cause trouble and cost him his job. Historians tell us that some years later Pilate did lose his job, because he massacred many Samaritans, thereby causing trouble that Rome did not need. Some scholars say that he committed suicide soon after at the order of the emperor.

The point of this Gospel passage is that Jesus is using a title that was very important in his time and place, "king," but giving it a new meaning, going beyond anything that people could imagine—a king of souls. In that sense, we can call Jesus King, not of any one place of but the whole universe.

Excerpts from the English translation of the Lectionary for Mass © 1969, 1981, 1997, International Commission on English in the Liturgy Corporation (ICEL). All rights reserved.

Bill Ayres was a founder, with the late singer Harry Chapin, of WhyHunger. He has been a radio and TV broadcaster for 40 years and has two weekly Sunday-night shows on WPLJ, 95.5 FM in New York. He is a member of Our Lady Queen of Martyrs Church in Centerport, New York.